Meaty Breakfast Roll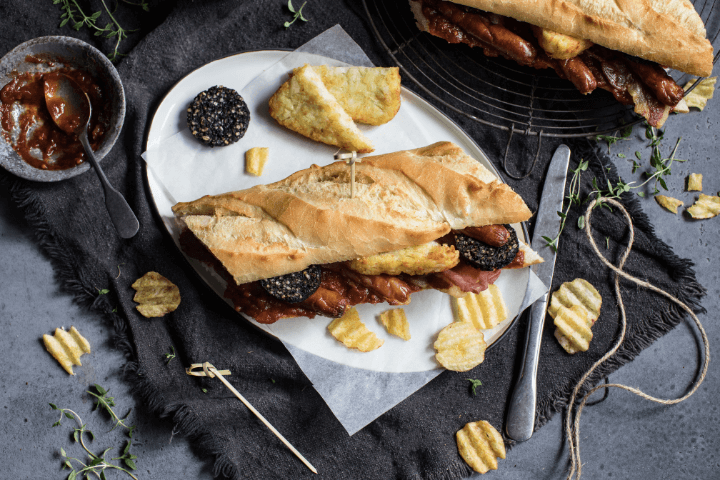 Cooking Time:

25 mins

Serves:

1

Allergens:

Contains wheat, sulphites (in processed meat)
Description
What a brilliant crowd pleaser. It is a delicious hug in the morning that sets you up especially if you have a busy day ahead. Enjoyed with big cups of coffee and hot pots of tea.
Ingredients
Crunchy Baguette
2 x Cooked sausages, halved along the length (keep warm)
3 x Slices of cooked black pudding (keep warm)
2 x Cooked Rashers (keep warm)
2 x Cooked Potato Hash browns (keep warm)
2 x tablespoon of Ballymaloe Original Relish
Dietary Suitability
Contains wheat
Contains sulphites (in processed meat)
Method
Take your French stick and if its whole use your serrated bread knife and cut it into three at an angle (you can go at a sharp angle for extra drama). Ideally the bread is super fresh with a crunchy crust!
Cut one piece in half but try and leave it hinged (don't cut through fully, leave the opposite side still intact).
Layer the inside of the roll (top and bottom) with lashings of Ballymaloe Original Relish.
Then place the rashers on the base, top with the sliced sausages, cooked puddings and finally the hash browns.
Enjoy the delicious start to your day!