Savoury Crepes with Ballymaloe Relish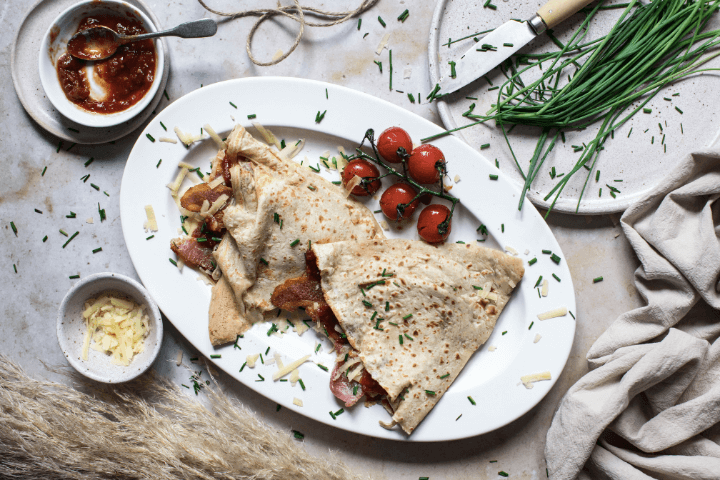 Cooking Time:

15 minutes - Preheat the oven to 250°C/475°F/Gas Mark 9

Serves:

1

Allergens:

Wheat, egg, dairy
Description
These savoury crepes are simply delicious. We're showing you how to make your crepes from scratch but, if you don't have the time, good-quality pre-made crepes can be equally tasty. Whether for breakfast, lunch or a light dinner, these crepes can be adapted in any way you see fit – just remember to keep an eye on the crepes in the pan: timing is everything!
Ingredients
2 crepes (shop-bought or homemade)
4 rashers (cooked)
50g mild Cheddar (grated)
2 tbsp Ballymaloe Relish
Chopped chives
A handful of cherry tomatoes (roasted)
To make your own crepes:
140g plain flour
200ml milk
2 free-range eggs (beaten)
25g butter (melted)
Dietary Suitability
Contains wheat
Contains dairy
Contains egg
Method
Preheat the oven to 250°C/475°F/Gas Mark 9.
To make your own crepes, sift the flour with a pinch of salt in a medium-sized bowl and then break the eggs in and whisk slowly. Mix the milk and 100ml of water together, then add to your egg mixture slowly, whisking all the time. Whisk until smooth, allow it to rest for half an hour, then stir in the melted butter. Heat your pan over a medium heat, add in a little melted butter and pour 2 generous tablespoons of batter into the pan, swirling it around to coat the pan's base. Cook for around 45 seconds on each side.
Pop your tomatoes on to a baking tray, drizzle lightly with olive oil & a sprinkle of sea salt, then cook for 10 minutes in your pre-heated oven. Cook your rashers at the same time.
Cover one side of your cooked crepe in Ballymaloe Relish, then add your cooked rashers, half the cheese and some chopped chives on top. Put these ingredients on only one quarter of the base, as you'll be flipping it shortly to create the perfect crepe!
Now using a fish slice, flip up the base to halve the crepe, and then flip over to create a quarter cone/triangle effect.
Serve with your roasted cherry tomatoes on the side, as well as some additional Ballymaloe Relish for dipping.