Shredded Turkey Nachos with Ballymaloe Vodka Cranberry Sauce and Ballymaloe Pepper Relish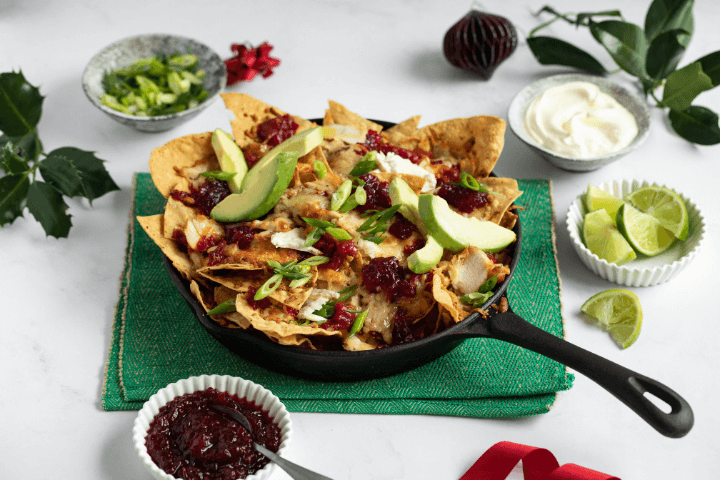 Cooking Time:

20 minutes

Serves:

2 -3

Allergens:
Description
These crowd-pleaser nachos are a fantastic festive addition because you can use your turkey leftovers in such a quick and delicious way. They're also fabulous with leftover roast duck or goose. Best enjoyed when shared with family & friends!
Ingredients
170g tortilla chips
200g leftover shredded turkey (mix the brown and white meat for extra flavour)
Sea salt
280g jar of Ballymaloe Pepper Relish
10 tsp Ballymaloe Vodka Cranberry Sauce, plus extra to serve
140g grated mozzarella and Cheddar mix
100ml sour cream
3 spring onions, thinly sliced
1 avocado, diced, tossed in olive oil and lime juice and sprinkled with sea salt
1 lime, cut into wedges
Method
Fold a long sheet of tin foil in half along the length. Put this in the middle of the air fryer and allow it to spill out over the edges. This will act as a handle to make it easier to release the nachos when they are finished and prevent them from falling apart.
Next, create a tin foil plate with high sides to sit perfectly in the air fryer, then tuck in the handles.
Put all of the tortilla chips on the lined base of the air fryer.
Put the shredded turkey in a bowl, sprinkle over a generous pinch of sea salt and toss to combine. This step is important.
Sprinkle half of the seasoned turkey over the tortilla chips, then spoon over half of the Ballymaloe Pepper Relish. Repeat with the remaining turkey and relish – aim for maximum coverage.
Pop 5 teaspoons of the Ballymaloe Vodka Cranberry Sauce on top – random placement is perfect. Cover with the grated cheese and finish with 5 more teaspoons of Ballymaloe Vodka Cranberry Sauce.
Put the nachos in your air fryer, preheated to 200°C and cook for 6 minutes, until the cheese is golden brown and bubbling.
Carefully remove the nachos using the tin foil handles. Put the nachos on a warmed plate and top with dollops of sour cream, sliced spring onions, the seasoned avocado and extra Ballymaloe Vodka Cranberry Sauce, alongside a bowl of lime wedges. Enjoy!
Note: Don't worry you can still enjoy these nachos without an air fryer. Heat the oven to 200°C/180°C fan/gas mark 6. Add the shredded turkey to a pan on a low heat with the Pepper Relish for a few minutes. Then layer on top of the nachos, as above, and finish with grated cheese and the cranberry sauce. Bake in pre-heated oven for 10-12 mins until the cheese and cranberry top layer melt and bubble. Serve as per step 8.