Supporting Local Businesses.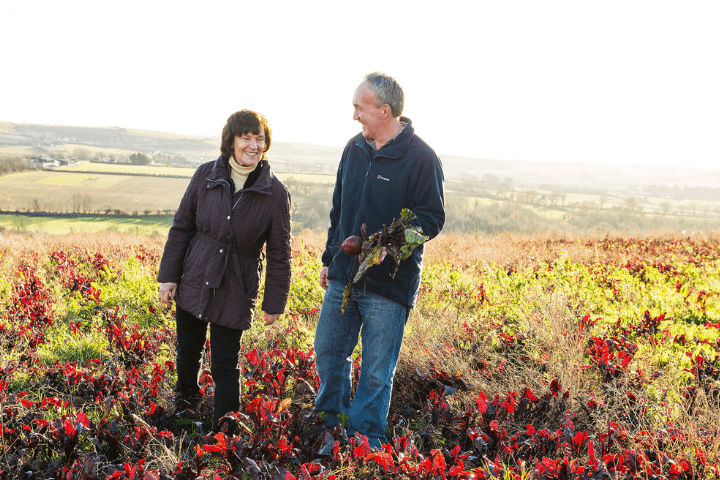 In Ireland, we are blessed with exceptional suppliers of local, high-quality food products. We at Ballymaloe Foods are determined to support local when and where we can. We work with local farmers, suppliers, and businesses to source ingredients for many of the products. This article will shine a spotlight on four such products. These products are not only sold to retailers, they are also available to buy in our foodservice range for use in deli's, cafés, and restaurants, they are, Ballymaloe's Irish Beetroot, Steak Sauce, Mayonnaise and Balsamic & Irish Apple Cider Vinaigrette.
In 2013 Yasmin Hyde, founder of Ballymaloe Foods was delivering products to a local supermarket. It was here she first met Joe Hartnett. After discussing the idea of growing Beetroot for Ballymaloe Foods, Joe later decided to dedicate 8 acres of his land in east Cork to growing Beetroot to create the now popular Ballymaloe Irish Beetroot. Today, Joe has over 14 acres set aside to grow the purple vegetable every year. Furthermore, to deal with the demand for the product, Darren Allen of Ballymaloe Farm and Yasmin Hyde's nephew also grows and supplies Ballymaloe Foods with a crop of Beetroot every year.
The Beetroot is handpicked from both farms, thoroughly washed, and delivered a short distance to Ballymaloe Foods. Here it is peeled, chopped, cooked, and combined with delicious fresh ingredients to give it a distinctive flavour. Setting up production of our Beetroot was not easy but it has become a great example of a farm to fork journey, showing traceability, sustainability, and the benefits of using local produce to create something special. We are very proud that this product has been awarded 2 stars in the Great Taste Awards in 2020 and we share this honour with Joe and Darren as without their hard work this product would not be on shelves and in kitchens around Ireland.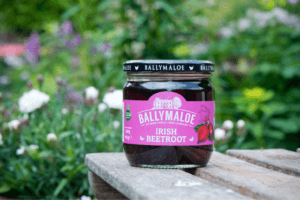 Following a long tradition of making homemade mayonnaise at Ballymaloe House, Ballymaloe Foods decided to produce a delicious Irish Mayonnaise for the consumer and foodservice market. We are determined and committed to using free-range and Irish produce. Therefore, it was so important to us that we sourced Irish, free-range eggs, not only for our peace of mind but also for our customer's. All the eggs in our Mayonnaise come from Margaret Farrelly's farm in Meath named Clonarn Clover.
Margaret Farrelly began selling free-range eggs in the 1980s and her flock of hens has grown from 150 to 160,000. Margaret's business now employs 32 people and includes the brand O-egg. Her commitment to free-range egg production made her farm a perfect fit for our mayo. The mayonnaise is also made with extra virgin olive oil and cracked black pepper. Made from all-natural ingredients and no artificial additives Ballymaloe Mayo is the sustainable option when choosing mayonnaise. In 2020 our mayonnaise was awarded a star in the Great Taste Awards.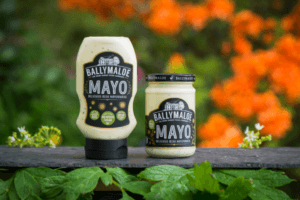 In 2013 Ballymaloe Foods started developing an indulgent sauce with blends of coffee and caramel and a mix of well-chosen spices. During the product development process, the team began experimenting by putting stouts into the different mixes. Ireland has a wealth of top-class brewery's so deciding to go with an Irish stout in the recipe was a no brainer for the team developing this product.
Dungarvan Irish Brewing Company launched their first beer in 2010 and have been growing ever since. Since their establishment, they have scooped multiple awards at Blas na hEireann and the Brewing Industry International Awards. We use their Blackrock Irish Stout in our Steak Sauce. The stout gives our sauce a rich flavour and a unique taste that makes it a perfect addition to pulled pork, steak sandwiches or any meat dish. We also use this Irish brewed stout in our delicious Ham Glaze! Our Steak Sauce won a Great Taste Award in 2018 and is available in Supervalu and in smaller food stores across Ireland. We would like to thank the Dungarvan Brewing Company for creating a fantastic Irish Stout that is a core element of this product.
Check out their website: https://dungarvanbrewingcompany.com/
Irish apples are well known for being delicious and versatile, they have far more variety and flavour to them than their imported counterparts. When developing products with apples as a core ingredient we always source Irish apples, after all, they have been growing here for 3000 years!
The McKeever Family from Armagh own and manage Long Meadow Cider. In 2019 Ballymaloe Foods approached them to supply their award-winning Irish Cider Vinegar to use in our Balsamic & Irish Apple Cider Vinaigrette dressing. The McKeever family have been growing apples for 50 years and Long Meadow Cider was established in 2013, by Pat, Catherine and Peter McKeever, as part of a farm diversification project.
Their cider vinegar uses apples grown on their family farm in the heart of Armagh, Northern Ireland. The quality and craftsmanship of the cider vinegar add so much character to the dressing. You can find out more about this fantastic family business at their website: https://www.longmeadowcider.com/