The Late Late Feast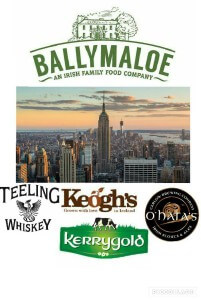 In the run up to St Patrick's Day, we decided we wanted to host a showcase of some of the Irish Food and Drink products on offer in the U.S. The month of March is always a celebration for the Irish in America and Americans with Irish heritage. With such pride being taken in the Irish identity it made for the perfect background to celebrate the high quality of the Irish food industry and the support it's shown here in New York.
With brands such as Kerrygold, Keogh's crisps, Butlers Chocolate, Healys honey, Brennan's bread, Teelings Whiskey, O'Hara's beer and Barry's Tea showing immediate enthusiasm and support we decided it could be a special evening.
The Late Late bar located in New York City are extremely dedicated to using a wide variety of Irish products, especially Ballymaloe relish thus leading us to the conclusion it was the best place to host the evening. We are looking forward to hosting a wonderful evening full of delicious bites and refreshing drinks (some of the best that Ireland has to offer).