Ballymaloe BBQ Recipes!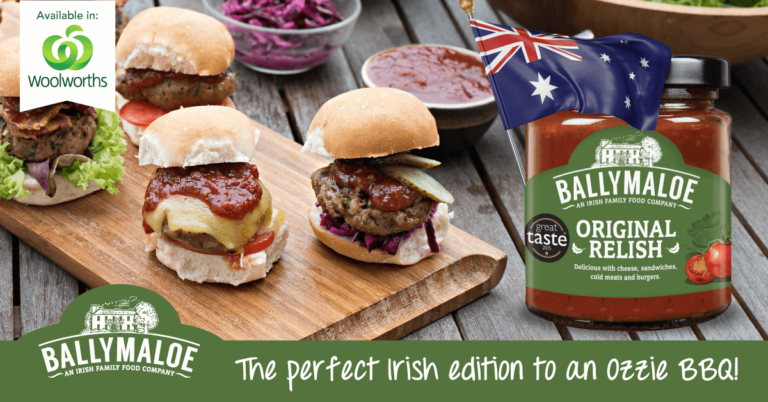 The sun is out and the beaches, BBQ's and beverages are calling! We aren't jealous at all back in Ireland, promise! Home just got a little closer because Ballymaloe Original Relish is now available in Woolworths across Australia! Here are some delicious ways to enjoy Ballymaloe Relish on the other side of the world!
BBQ Chicken, Chorizo and Ballymaloe Relish Bun
Ingredients
(Serves 4)
2 chicken breasts
Salt and pepper
A little olive oil
225g Chorizo sausages
4 Handful of your favourite salad leaves and herbs ( Rocket, spinach, lambs leaf, gem, chive, parley)
Ballymaloe Honey Mustard Dressing
4 soft white or wholemeal buns
Ballymaloe Relish
Method
Heat the BBQ grill to medium-high. Season the chicken breasts with salt and pepper and a little olive oil. Place the chicken on grill (if using skin-on chicken, place skin side down on grill).Grill chicken, without turning for 6 to 10 minutes. Flip and grill for 8-10 minutes or until cooked through. Cook the chorizo sausages for 10-15 minutes depending on their thickness. It is nice to split the chorizo sausages length ways and griddle each side for the final minute. Toast the buns on the BBQ if you like. Toss the salad leaves in Ballymaloe Honey Mustard Dressing. To assemble, to each bun add the salad leaves, pieces of BBQ chorizo, slices of chicken and top with Ballymaloe Relish.
Ballymaloe BBQ Beef Burger
Ingredients
(Serves 4 – 6 people)
15g butter
450g minced beef
110g chopped onions
2 tbsp Ballymaloe Country Relish
Salt and freshly ground pepper
1 tsp fresh thyme leaves, chopped
1 egg, beaten (ideally free range)
55g flour, seasoned
Method
Melt the butter in a pan, add the onions, cover and sweat until soft. Allow to cool and then mix in a bowl with all the other ingredients. Cook a little of the mixture in a pan and taste to check seasoning. Shape into burgers and toss in seasoned flour, patting off excess. BBQ at a medium heat, turning as required until fully cooked.
Serve on a toasted bun with cheese shavings, lettuce and a dollop of Ballymaloe Country Relish. Delicious!
Rueben Hotdog with Ballymaloe Relish
Ingredients
(serves 4)
4 sausages or hotdogs
4 hotdog buns or crusty rolls
75g Sauerkraut
60g Swiss cheese grated
4 tbsp Mayonnaise
2 tbsp Ballymaloe Relish
Method
A classic Rueben sandwich has corned beef on rye bread with sauerkraut and swiss cheese, we've created a Ruben hot dog, adding all the best bits including a Ballymaloe relish mayo.
Mix the mayonnaise and Ballymaloe Relish to create your hotdog sauce. BBQ the sausages, this takes 10-15minutes on the BBQ depending on their thickness. When cooked through put each sausage in a bun, you may want to toast these. Top with Sauerkraut, Swiss cheese and the Ballymaloe Relish mayo.