Ballymaloe Cheese Box – a perfect festive selection of the finest Irish cheeses, Sheridans crackers and Ballymaloe accompaniments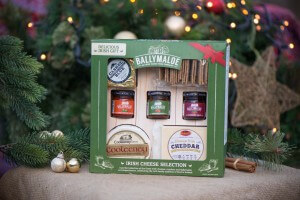 **Available only on a seasonal basis.
The Ballymaloe Cheese Box is a perfect festive selection of the finest Irish cheese, crackers and Ballymaloe accompaniments that celebrates the rich family tradition of food in Ireland. It makes a great stocking filler, a thoughtful hostess gift, or even something delicious for the grown-ups to share while waiting for Santa to arrive!
Inspired by Irish families who have been steeped in the tradition of food for generations, the Ballymaloe Cheese Box brings together three exceptional independently-owned Irish cheeses – Cashel Blue,
Horgan's Vintage Irish Cheddar and Cooleeney – along with Sheridan's excellent Irish Brown Bread Crackers and three different mini relishes from Ballymaloe Foods, each chosen to specifically complement one of the cheeses.
Louis & Jane Grubb's renowned Cashel Blue, now being made by the second generation of their family by hand at Beechmount, their 200-acre farm in Co. Tipperary from outstanding grass-fed milk, has the suggested pairing in the Ballymaloe Cheese Box of Ballymaloe Original Relish. This subtle creamy blue cheese, offset by a mouth-watering tanginess, works particularly well with the versatile fruity taste of the iconic Ballymaloe Original Relish.
From Mitchelstown, Co. Cork, Horgan's Vintage Irish Cheddar is the product of generations of passionate Irish cheese makers, whose name has been synonymous with the finest quality food products since 1921. Aged and matured for up to two years to give it its strong flavour, hint of creaminess, crumbly texture and a real bite, the cheese is paired in the Ballymaloe Cheese Box with a real bite of a different kind – Ballymaloe Jalapeno Pepper Relish!
Finally Cooleeney soft cheese with its full and robust flavours of mushroom and oak, created at Cooleeney Farm in Tipperary by the fourth generation of the Maher family to work the land, is paired in the Ballymaloe Cheese Box with Ballymaloe Cranberry Sauce. The winning combination of clover-rich grass and the pedigree Friesian herd produces the sweetest milk for Cooleeney cheese, matched by the tart sweetness of Ballymaloe Cranberry Sauce.
Sheridans Irish Brown Bread Crackers are crisp crackers ideally designed for cheese, made using just four Irish ingredients, including buttermilk to impart the distinctive traditional brown bread flavour. Using flour stone-ground at Macroom Oatmeal Mills, butter from Bandon Co-op and buttermilk produced by the Cronin family from Belgooly, all in County Cork, and made by baker Richard Graham Leigh in Clonakilty, these award-winning crackers pair brilliantly with any of the combinations in the Ballymaloe Cheese Box – including the ones you invent yourself!
Christmas is all about celebrating the simple things – family, great food, sharing and making new traditions – and the Ballymaloe Cheese Box is a lovely way to do just that. The Ballymaloe Cheese Box retails for €19.99 and is available in Supervalu and independent stores nationwide.