Ballymaloe Foods at Sydney Good Food and Wine Show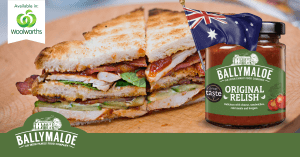 Ballymaloe Foods are delighted to announce that we will be exhibiting at the Sydney Good Food and Wine Show this 23rd-25th of June. Come visit us at Stand G11 in the International Convention Centre.
Based in Co. Cork, Ireland, Ballymaloe Foods have been making Ballymaloe Relish for the shops for the past 27 years. Yasmin Hyde started the company when she saw an opportunity to produce a tomato chutney that her mother, Myrtle Allen Of Ballymaloe House, had been making for her guests and family. Fast forward 27 years and Yasmin now works alongside her daughter, Maxine, and a small team, to produce and sell this delicious Irish product. After becoming an Irish household staple, Ballymaloe Relish is now available at the other side of the world-Australia!
Ballymaloe Relish is incredibly versatile and goes with almost everything. It can be enjoyed with your summer BBQs (especially with burgers!), cold meats, sandwiches, omelettes, cheese, baked potatoes and savoury pies! Try adding a spoonful into a curry or shepherd's pie for a rich tomatoey flavour! It is made using 100% natural ingredients, using a traditional cooking method and a recipe that has remained unchanged since the 1940s!
With a listing in over 400 Woolworths stores, Ballymaloe Relish is stocked in the British and Irish Section in larger Woolworths stores. To find your nearest stockist, please click here.