Paddy's Eats, Treats & Beats – St. Patrick's Day 2021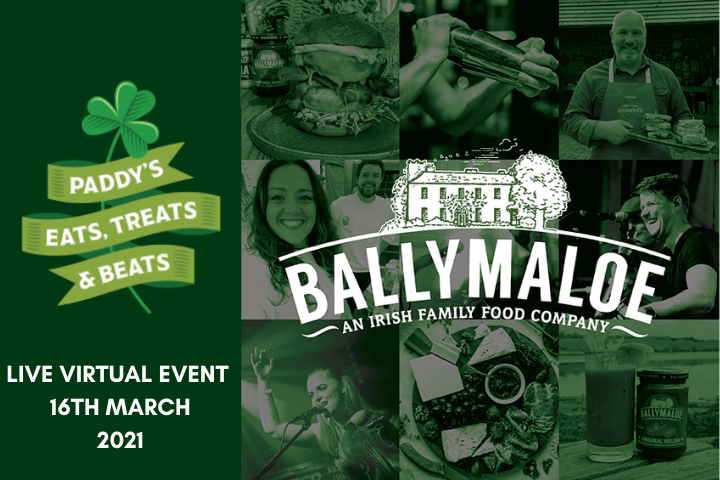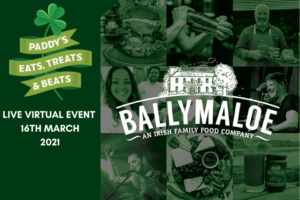 Paddy's Day Virtual Event Brochure 2021
The craic was mighty, the food fantastic and the music was MASSIVE! This year, we celebrated St. Patrick's Day with a bang with our first-ever virtual event. An occasion for everyone and anyone who wanted to join an evening of music, craic, and food tips & tricks. Hopefully next year we will be able to do the same event when everyone can be together in person!
SuperCéilí performed live from the Dingle peninsula with spectacular trad and modern music that had everyone tapping their feet and singing along throughout the evening. In between the songs, we had brother and sister, Rory and Tara from Foxglove Cocktails of Baltimore mixing up 'The Bally Mary' and 'It's Cranberry Thyme' cocktail. Next up, we had Jim & Rom the husband-and-wife duo behind 'OnlySlaggin' from just outside Belfast. They put together a trio of tacos – steak & cheese, halloumi, and prawn tacos! They had mouths WATERING with their display of food.
It wouldn't be an event without a few competitions, right? We gave away x17 prizes on the night to thank everyone for signing up. There was a mix of hampers from our online shop, cocktail kits by Foxglove cocktails, and goodie boxes made up with a selection of Irish goodies from Caulfield Country Boards and more!
We were overwhelmed with the positive feedback from the event and had viewers tuning in from all around the world.
If you want to check out the 'Bar in a Jar' cocktails or the recipes for the 'Trio of Tacos' check out the free downloadable booklet!
"AMAZING EVENING!! now please do it in real life when restrictions lift!! :)"
"Ballymaloe please do it again soon"
"The best gig I've been to in so long!"
"Thanks for a fab night ?? unreal music ? fairplay to ye all"
"Thank you very much and for a brilliant night"
"Thank you for a gorgeous evening! So good to be able to join a virtual event that has been done so well by all the team and all involved! Thank you ?"
"Thanks very much! Really enjoyed that. Happy St Patrick's Day everyone!"