Baked Ham and Honey Mustard Baguette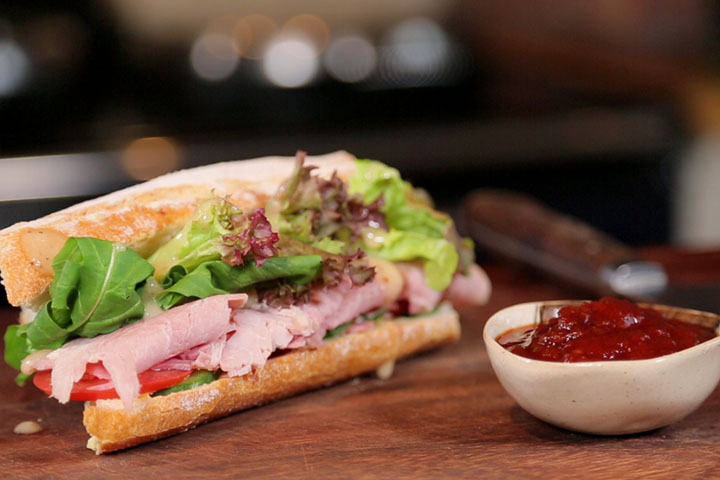 Cooking Time:

5 minutes

Serves:

2

Allergens:

wheat, dairy
Description
Ham and mustard have been forming a partnership for generations and with the added hint of sweetness brought by the honey in the dressing, this sandwich has all you need for a lunch or picnic.
Ingredients
Your bread of choice
2 slices of baked ham (leftover roast chicken is also an excellent addition to this sandwich, as are cucumbers and radishes)
Real butter
2 tsp Ballymaloe Original Relish
1 tomato, sliced and seasoned (sprinkle of salt and pepper)
Thinly sliced red onion (toss in a little drizzle of Ballymaloe Honey & Mustard Dressing)
Romaine or butterhead lettuce leaves
Drizzle of Ballymaloe Honey & Mustard Dressing
Method
Cut your baguette or ciabatta in half, and lightly toast
Butter the toast and spread on some Ballymaloe Original Relish and top with slices of seasoned tomato. Follow with salad leaves and finely sliced red onion tossed in a little Ballymaloe Honey & Mustard Dressing
Finish with the sliced, baked ham.