Baked Ham and Ballymaloe Honey & Mustard Baguette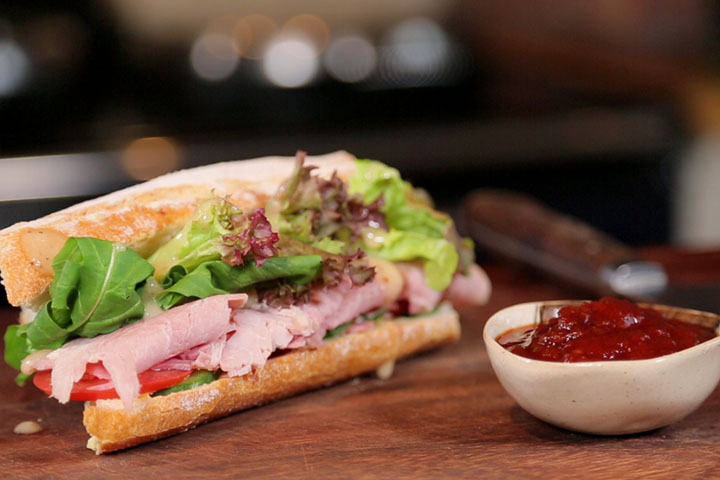 Cooking Time:

5 minutes

Serves:

1

Allergens:

Wheat, dairy
Description
Ham & mustard has always been – and will always be – a stellar sandwich choice. Ballymaloe Honey & Mustard Dressing packs the punch of mustard but brings an added hint of honeyed sweetness. Perfect for lunch or as a picnic staple.
Ingredients
Your bread / ciabatta / baguette of choice
2 slices baked ham (leftover roast chicken is also an excellent addition to this sandwich, as are cucumbers and radishes)
Ballymaloe Honey & Mustard Dressing
Butter
1 tomato (sliced & seasoned)
1 red onion (finely sliced)
Romaine / butterhead lettuce leaves
2 tsp Ballymaloe Original Relish
Method
Lightly toast your bread / baguette / ciabatta of choice.
Butter the toast and spread on some Ballymaloe Original Relish, topping with slices of tomato.

Follow with your lettuce leaves and finely-sliced red onion, tossed in a little Ballymaloe Honey & Mustard Dressing.
Finish with the sliced, baked ham.