Baked Potato with Ballymaloe Fiery Relish & Homemade Baked Beans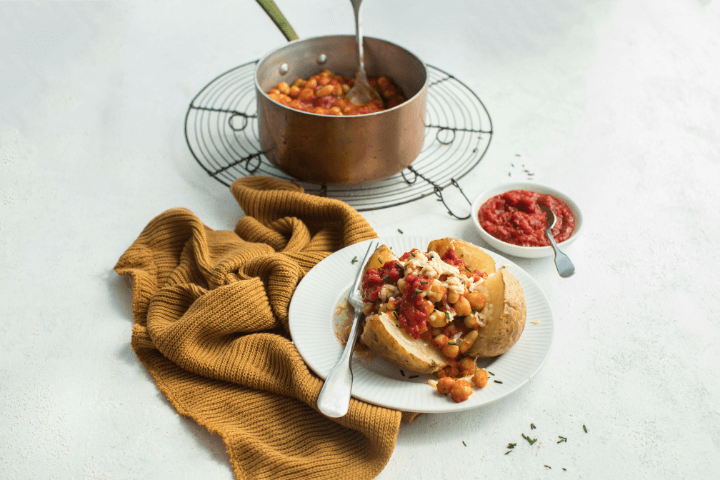 Cooking Time:

1 hour 10 minutes - Preheat oven to 180⁰C/350⁰F/Gas Mark 4

Serves:

4

Allergens:

Dairy
Description
There's something incredibly comforting about our old friend, the baked potato. Here, we're adding our own twist, by turning up the heat with our Fiery Relish and some homemade baked beans. Ballymaloe Italian Tomato Pasta Sauce, meanwhile, gives a smooth, sweet and satisfying taste of tomatoey freshness. We recommend serving with a great big green salad, tossed in Ballymaloe French Dressing.
Ingredients
4 large potatoes
Ballymaloe Italian Tomato Pasta Sauce (400g jar)
75g tinned/cooked chickpeas
75g tinned/cooked cannellini beans
75g tinned/cooked haricot beans
1 tbsp Ballymaloe Fiery Relish
170g Cheddar cheese (grated)
Sea salt & pepper
Dietary Suitability
Suitable for Vegetarians
Gluten Free
Method
Preheat oven to 180⁰C/350⁰F/Gas Mark 4.
Place the spuds on the tray and skewer each three times with a fork. Bake in the oven for 1 hour or until a skewer comes out easily.
In a medium-sized saucepan, heat the jar of Ballymaloe Italian Pasta Sauce. Pour 3 fl oz water into the empty jar and replace the lid, then shake to dislodge any sauce and pour into the saucepan.
Add your Ballymaloe Fiery Relish and the beans. Bring to a boil and simmer for 4 minutes or until piping hot.
Taste and adjust the seasoning by adding sea salt, freshly-cracked black pepper, and more Ballymaloe Fiery Relish.
When the potatoes are cooked, place on a warm plate and cut a cross in each. Force up the centre and fill each one with your fiery beans and a generous layer of grated Cheddar.