Roast Stuffed Turkey with Ballymaloe Cranberry Sauce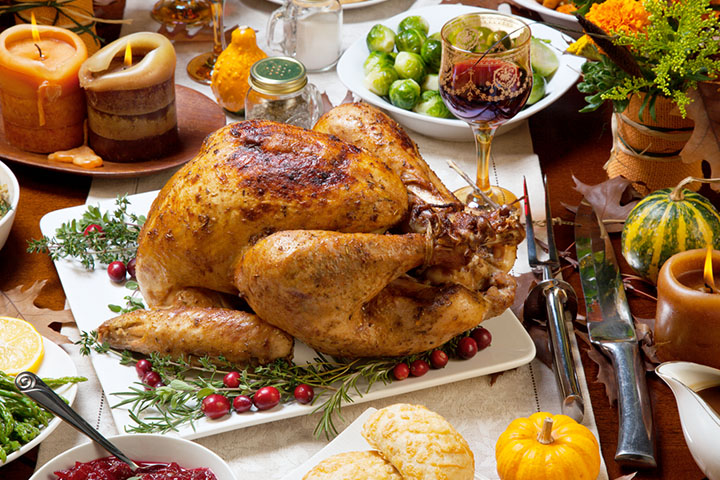 Cooking Time:

4 hours 15 minutes - Preheat the oven to 180°C/350°F/Gas Mark 4

Serves:

12

Allergens:

Wheat, dairy
Description
We are proud to provide a detailed, step-by-step guide to creating the perfect roasted & stuffed turkey. From making the stuffing, to roasting times and gravy-making, this recipe will take the mystery out of cooking this celebrated traditional dish. Ballymaloe Cranberry Sauce's sweetness beautifully compliments the earthiness of the stuffing & nuttiness of the turkey, whilst its sweet yet sharp notes will create a lovely counter-balance to your gravy. Ask your butcher to remove the wishbone from the neck end of the turkey, but ask to keep it, as it should be added to your stock. Unsure how long to cook your turkey for? Visit https://www.safefood.net/turkey-calculator
Ingredients
10-12lb free-range turkey (keep the neck, giblets, heart, gizzards, wishbone and wingtips for your gravy)
Fresh herb stuffing
175g butter
350g onions (chopped)
400-500g soft breadcrumbs (gluten-free if necessary)
50g freshly chopped herbs (parsley, thyme, chives, marjoram, savory, lemon balm)
Salt & freshly-ground pepper
Vegetable/chicken stock
2 carrots (sliced)
2 onions (sliced)
1 celery stick
Bouquet garni
3-4 peppercorns
Ballymaloe Cranberry Sauce
To baste the turkey:
225g butter
Large square of muslin (optional)
Large sprigs of fresh parsley/watercress (to garnish)
Method
Preheat the oven to 180°C/350°F/Gas Mark 4.
Weigh the turkey and calculate the cooking time.
Remove the wishbone from the neck end of the turkey for ease of carving later, if your butcher has not done so.
Make a turkey stock by covering the neck, gizzard, heart, wishbone, wingtips, vegetables and bouquet garni with water (you can also keep the liver to make smooth turkey liver pâté).
Bring to the boil and simmer while the turkey is being prepared and cooked (3 hours approximately).
To make the fresh herb stuffing, sweat the onions gently in the butter until soft, then stir in the crumbs, herbs and a little salt and pepper to taste.
Allow the stuffing to get quite cold.
Melt your butter, then soak a large piece of good-quality muslin in it.
Cover the turkey completely with the muslin then roast in the oven. There is no need to baste your turkey because of the butter-soaked muslin. The turkey browns beautifully, but if you like it even browner, remove the muslin 10 minutes before the end of the cooking time.
Alternatively, smear the breast, legs and crop well with soft butter and season with salt & freshly-ground pepper
To test if the turkey is done, prick the thickest part at the base of the thigh and examine the juices - if they are clear, your turkey is ready! Put the turkey on a carving dish or plate, keeping it warm and allowing it to rest while you make the gravy.
To make the gravy, spoon off the surplus fat from the roasting pan.
Deglaze the pan juices with fat-free stock from the giblets and bones.
Using a whisk, stir and scrape well to dissolve the caramelised meat juices from the roasting pan.
Boil them up and season and thicken with a little roux. Taste and season and serve in a gravy boat.
Serve your roasted turkey with vegetables and potatoes of your choice, accompanied by a generous amount of Ballymaloe Cranberry Sauce.