Chicken and Camembert Crostini with Ballymaloe Cranberry Sauce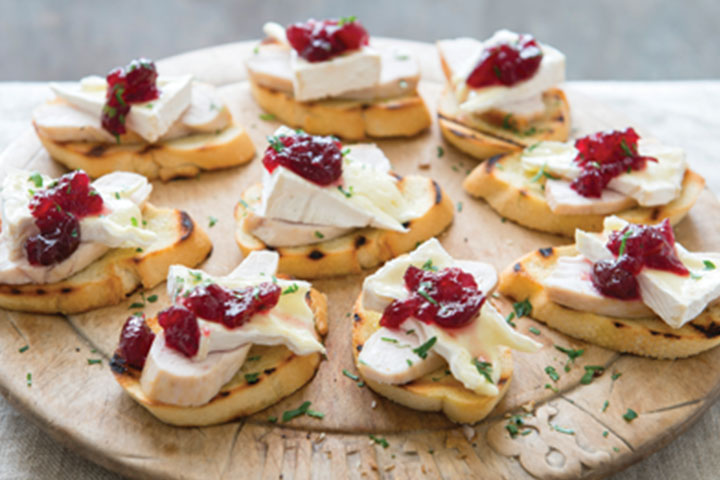 Cooking Time:

20 mins

Serves:

4

Allergens:

dairy, wheat
Description
Ballymaloe Cranberry Sauce and turkey or chicken is a loved combination. Add in some Camembert for this crostini recipe and you've a taste that has the right balance of creamy and piquant. With the background hint of garlic and some good seasoning, the crostini deliver all the umami taste you could want.
Ingredients
Half a baguette (cut into 8 half-inch slices)
A clove of garlic (cut in half)
Extra virgin olive oil
1 chicken breast
Salt and pepper
1 small round of Camembert
Ballymaloe Cranberry Sauce
Method
Season the chicken with salt and pepper. Heat a frying pan, add some olive oil and fry the chicken breast on a medium heat until it is golden on the outside and cooked through. Slice the chicken breast into 1/2 inch slices and keep warm.
Grill the slices of bread until they are just golden on both sides.
While they're still hot, rub them gently with the cut side of the garlic and drizzle with good quality extra virgin olive oil.
Slice the Camembert into small wedges.
On a serving plate arrange on the crostini, with a slice of chicken, camembert and a teaspoon of Ballymaloe Cranberry Sauce.