Chilli Sin Carne Enchiladas with Ballymaloe Pepper Relish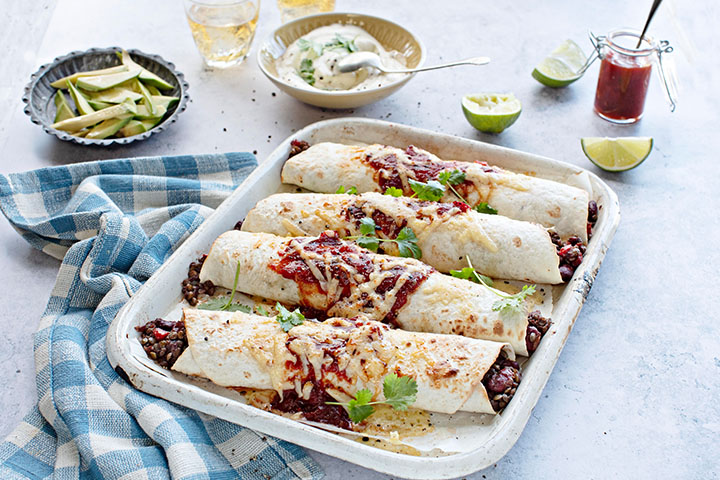 Cooking Time:

1 hour

Serves:

2/4

Allergens:

wheat, dairy
Description
These enchiladas are hearty and a very tasty vegetarian dish to please everyone. You can also use canned puy lentils which are pre-cooked. Ballymaloe Pepper Relish with its background jalapeño flavour is perfect for this take on a Mexican classic.
Ingredients
126g Puy lentils
1 red onion
1 tbsp olive oil
2 garlic cloves
1 tsp ground cumin
1/2 tsp coriander
1/2 tsp ground cinnamon
100ml red wine
280g Ballymaloe Pepper Relish
400g can of kidney beans (drained & rinsed)
4 flour tortillas
50g grated cheese
1 ripe avocado (peeled & sliced)
Sour cream
1 lime (quartered)
Handful of fresh coriander
Sea salt and freshly ground black pepper
Method
Put the Puy lentils in a medium pan with 375ml of cold water. Pop the lid on, bring to the boil and then reduce to a gentle simmer for 20 minutes until tender and all the water has been absorbed.
Meanwhile, finely chop the red onion.
Heat the oil in a sauté pan over a medium heat and fry the onion for 5-6 minutes until softened.
Finely chop the garlic and add along with the spices. Cook for a further minute.
Increase the heat to high, add the wine and allow to bubble down for 3-4 minutes. Then stir in half of the Ballymaloe Pepper Relish, kidney beans and lentils.
Bring to the boil and then reduce to a simmer for 10 minutes.
Preheat the oven to 180oC (fan 160oC), 350oF, Gas Mark 4.
Lay the flour tortillas out on a clean surface.
Divide the lentil mixture evenly between them, spooning it in a sausage shape near the side closest to you. Roll this side over the mixture and continue rolling to completely enclose. Arrange, seam-side down, in a large baking dish.
Spoon the remaining Ballymaloe Pepper Relish over the enchiladas, scatter with cheese and bake for 10 minutes until warmed through and topped with bubbling cheese
Serve with dollops of sour cream, avocado slices, fresh lime wedges, a scattering of freshly ground black pepper and coriander leaves.