Christmas Sourdough Stack with Ballymaloe Mayo & Cranberry Sauce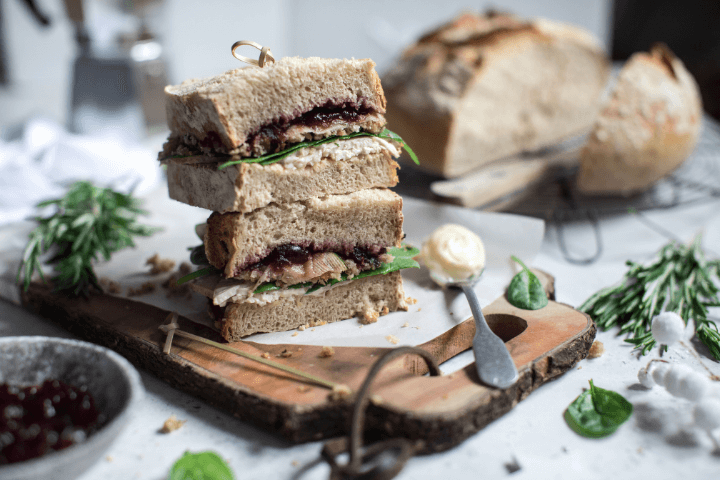 Cooking Time:

10 minutes (prepare your cucumber pickle in advance)

Serves:

1

Allergens:

Dairy
Description
Use up Christmas Day leftovers with our Sourdough Stack, guaranteed to keep that Christmas spirit going. The pickled cucumber ribbons add a little zing to this superb sandwich. Your cucumber will need to pickle for at least an hour to get the desired combination of sweet, savoury & sharp notes – and remember to taste before sealing your pickling jar, adding a little more salt, vinegar or sugar as you see fit.
Ingredients
2 slices sourdough bread
Butter
3-4 roast turkey slices
Small handful spinach leaves
1 heaped tbsp baked herb butter stuffing
2 tsp Ballymaloe Mayo
2 tsp Ballymaloe Cranberry Sauce
Sea salt & black pepper
For your pickled cucumber ribbons:
1 cucumber (very finely sliced)
100g sugar
½ tsp salt
3fl oz cider vinegar
Method
Butter your bread, then add Ballymaloe Mayo to one slice and Ballymaloe Cranberry Sauce to the other. Add the spinach, turkey slices and a sprinkle of sea salt & black pepper.
Top the Ballymaloe Cranberry Sauce with spinach, followed by a layer of turkey slices and a sprinkle of salt and pepper. Add the stuffing and, finally pop the lid on with a little push to keep the stuffing in!
Cut at an angle and serve with a side of zingy and drained (not to mention home-made) cucumber pickles!
Wash and dry the cucumber. Using a peeler, peel strips off the cucumber, including the skin, going from top to bottom. As you reach the seeds, stop! Turn the cucumber and start the process once more until all the cucumber is in strips.
Place the cucumber strips in a large bowl. Add the sugar, salt and vinegar and stir to combine. Leave for a minimum of an hour and stir to ensure full pickling has occurred. When you are ready to use your pickled cucumber ribbons, drain through a nylon sieve to remove excess liquid.