Christmas Sourdough Stack with Ballymaloe Mayo and Cranberry Sauce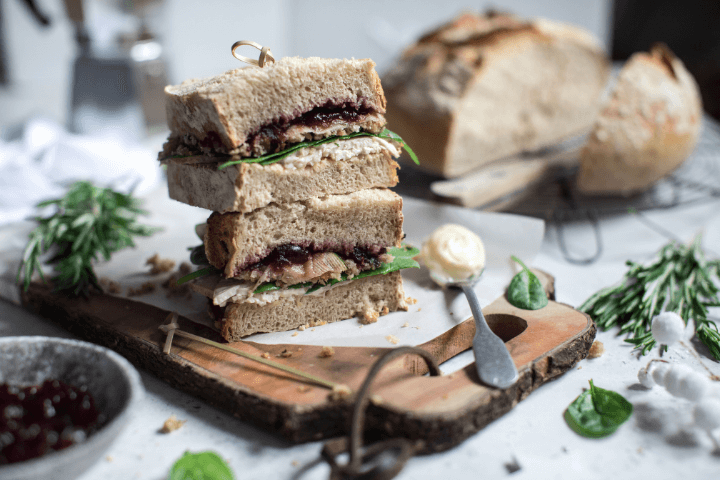 Cooking Time:

10 minutes

Serves:

1

Allergens:
Description
This delicious sandwich is perfect to use up leftovers from Christmas dinner.
Ingredients
2 slices of sourdough bread.
3/4 roast turkey slices.
Small handful of spinach leaves.
1 heaped tablespoon baked herb butter stuffing.
2 teaspoons of Ballymaloe Mayo.
2 teaspoons of Ballymaloe Cranberry Sauce.
Pickled cucumber ribons (cider vinegar, sugar, salt)
Method
Quickly pickle cucumber ribbons. Best made and used on the same day.
Butter both sides of bread.
Spread the Ballymaloe Cranberry Sauce on the base.
Spread the Ballymaloe Mayo on the lid.
Top the Ballymaloe Cranberry Sauce with spinach, followed by a layer of turkey slices and a sprinkle of salt and pepper.
Spread the stuffing on top and finally place the Mayo lid to keep the stuffing in place.
Cut at an angle and serve with a side of zingy and drained cucumber pickles.