Christmas Breakfast Extravaganza with Ballymaloe Relish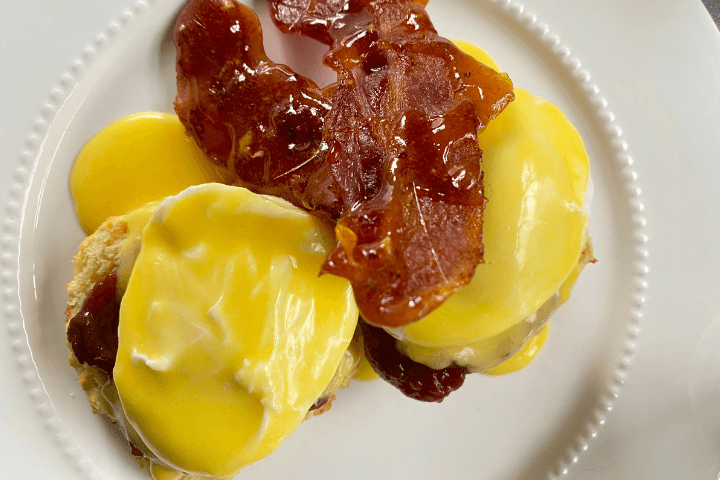 Cooking Time:

45 minutes

Serves:

Allergens:
Description
This extra special recipe will add a lot of pizazz to breakfast over the holidays!
Ingredients
To make Buttery Scones
10oz plain flour
1 tblsp baking powder
1 tblsp baking powder
1 tsp salt
Half pint (8/ 10 fluid ounces) buttermilk
4oz cold butter
1 tblsp light brown sugar
To make the Candied Bacon
6 slices of really good streaky Irish bacon
2 oz light BROWN sugar
To make the Hollandaise Sauce
6 egg yolks
4 oz diced COLD butter
Half teaspoon cold water
For the Poached Eggs
6 organic/ free range eggs
Salt
Ballymaloe Original Relish
Method
To make the butter scone, Combine all dry ingredients (sieved) in a large bowl. Pre heat your oven to 230c.
Cube the cold butter into the dry mix. Work the butter into the flour quickly but not fully, speckles of butter are a good thing. Make a well in the centre and pour in the buttermilk. Work quickly and do not knead, bring the mixture together. It should be sticky so if it appears too dry add a little drop extra of buttermilk.
This mixture will make 9 scones in total. Using a tablespoon, scoop up the mixture and place on a lined (parchment) baking tray. Remember to leave a little room between spoonful's. No kneading and no over handling results in these savoury scones turning out delicate and intensely delicious. Bake for 13 minutes or until golden brown. Remove from baking tray to a wire rack while you prepare the rest of your glorious Christmas breakfast.
To make the Candied Bacon, preheat oven to 200c. Line a baking tray with foil and top with an oven proof wire rack.
Place the bacon on the wire rack. Sprinkle the sugar on top of the streaky bacon, as evenly as you can. Place in the preheated oven and roast for 15/25 mins.
Once the bacon is dark golden and brown, remove from oven. Place bacon carefully onto a parchment lined tray as you prepare the remaining breakfast components (if it cools on the rack it will stick and be impossible to remove later).
To make the Hollandaise sauce, use a small pot, whisk the egg yolks and a teaspoon of water. Place on a low heat and continue to whisk while adding the butter one dice at a time. As one-piece of butter melts, you can add the next piece. Monitor the heat, a little steam is ok but too much and your base will curdle. Whisk continuously until all of the butter is incorporated and you have a rich yellow sauce. Remove from heat.
To make the poached eggs, bring a medium sized pot of water to a boil. Once boiling add the salt and bring back to a boil. Crack an egg into a small glass and once the water returns to the boil give it a stir then gently place the rim of the glass at the waters edge and pour in the egg in one go, repeat quickly with the second egg. Cook for 3 minutes or until the white is set and the yolk is soft to touch (runny).
Using a slotted spoon, remove the poached eggs to a kitchen paper lined plate to dry.

To assemble cut your scone in half. Slather both sides in Ballymaloe Original Relish and position on a warmed plate. Top each half with a poached egg then generously drape each egg with Hollandaise sauce and place the candied bacon at an angle and serve. Merry Christmas Breakfast.