Crab Cakes with Ballymaloe Relish & Ballymaloe Mayo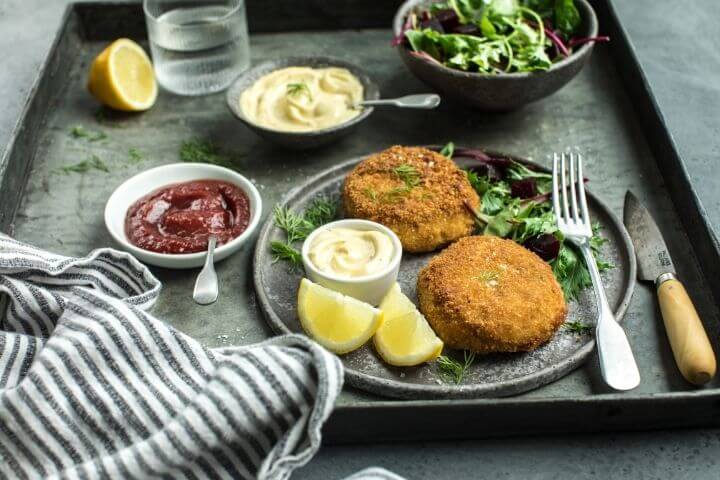 Cooking Time:

40 minutes - Preheat the oven to 100°C/210°F/Gas Mark 1

Serves:

3 (makes 6 cakes)

Allergens:

Crustacean, wheat, dairy, mustard, egg
Description
Low in fat but full of flavour, crab meat is a sweet treat, especially in the summertime. White crab meat comes from the claws & legs of the crab, is high in protein and has a delicate, sweet flavour, while brown meat (from the body of the crab) is high in Omega 3 and has a deeper, meatier flavour. Either works well for these crab cakes – just make sure you've removed all traces of shell. You can choose to make your own Béchamel sauce, pick up a packet mix or substitute for 2 eggs. We shallow-fry our crab cakes so make sure you have a big frying pan to hand!
Ingredients
250g crab meat (white, brown or a mixture - squeezed and free of shell & excess moisture)
1 tbsp Ballymaloe Relish
1 potato (cooked, peeled & mashed)
6 tbsp breadcrumbs
3 tbsp Béchamel sauce (or 2 eggs)
1 tbsp dill, parsley, chives (finely chopped)
Mixed leaves
100g plain flour (seasoned)
2 eggs (beaten - for coating the cakes)
Sea salt & freshly-cracked black pepper
Ballymaloe Mayo
Ballymaloe French Dressing
Olive oil / sunflower oil (to fry in)
Dietary Suitability
contains crustacean
contains egg
contains mustard
contains wheat
Method
Preheat the oven to 100°C/210°F/Gas Mark 1.
Place the crab meat, breadcrumbs, Béchamel sauce (or 2 eggs), herbs and Ballymaloe Relish into a mixing bowl. Stir to combine and season, if necessary, with sea salt & freshly-cracked black pepper.

Shape into 6 patties, then chill on a parchment-lined tray for 15 minutes.
To coat the crab cakes, pop one by one into seasoned flour, then pat off any excess. Drop gently into the beaten egg and, finally, into the breadcrumbs.

Return to the parchment-lined tray and chill for a further 15 minutes.
To shallow fry, place 1.5 inches of olive oil (or sunflower oil) in a large frying pan and heat. Get a kitchen-paper lined tray ready, and have a fish slice or slotted turner nearby.

As the soon as the oil begins to smoke, add 2 fish cakes and cook for 4 minutes a side. Monitor the heat and lower gradually to ensure you are in control.
Drain each cake carefully then pop them into your pre-heated oven while you cook the rest.
Serve with a green salad, tossed with Ballymaloe French Dressing, with a side of Ballymaloe Mayo to dip your crunchy crab cakes in!