Crab Cake with Ballymaloe Mayo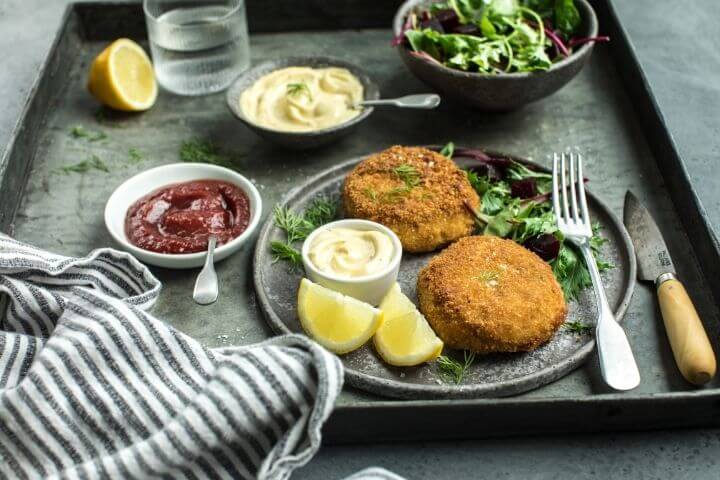 Cooking Time:

40 mins

Serves:

3

Allergens:

crustacean/ wheat/ dairy/ mustard/ egg
Description
Summer Crab cakes are simply the best. You could even turn this into a delicious fiery taco!
Ingredients
250g Crab meat- squeezed and free of shell and excess moisture
1 cooked potato, peeled and mashed (no butter, no milk, no cream)
6 tbsp Breadcrumbs
3 tbsp Bechamel sauce (or 2 eggs)
1 tbsp finely chopped dill, parsley, chives
1 tbsp Ballymaloe original relish
Mixed leaves
Ballymaloe French Dressing
Ballymaloe Mayo
100g plain flour seasoned
2x beaten eggs
6 tbsp fine breadcrumbs
Dietary Suitability
cotains crustacean
contains egg
contains mustard
contains wheat
Method
Place the crab, breadcrumbs, bechamel, herbs, Ballymaloe original relish into a mixing bowl. Stir to combine and taste for seasoning. Add sea salt and freshly cracked black pepper if needed.
Shape into patties.
Chill on a parchment lined tray for 15mins.
Coating the crab cakes: Pop each crab cake into the seasoned flour, pat off any excess. Turn in the beaten egg then finely the breadcrumbs. Return to the parchment lined tray and chill for a further 15mins.
To shallow fry- place 1.5" of olive oil (or sunflower oil) in your large frying pan and heat. Have a kitchen paper lined tray ready and a fish slice
Once the oil JUST begins to smoke add 2 fish cakes and cook for 4mins a side. Monitor the heat and lower gradually to ensure you are in control.
Place onto the kitchen paper-lined tray and into a warming oven (preheated at 100*) while you cook the rest.
To serve: place two fish cakes onto each warmed plate and serve with a tossed green salad and a side of Ballymaloe Mayo to dip.