Homemade Kid-Friendly Fish Fingers & Chicken Dippers with Ballymaloe Relish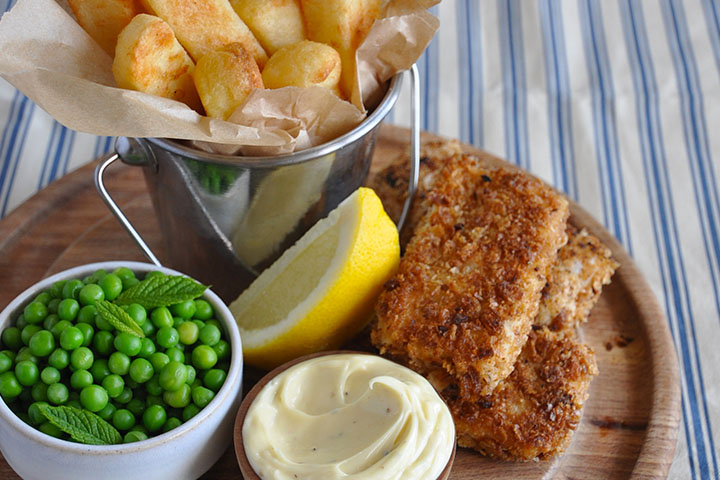 Cooking Time:

20 minutes - Heat a deep fat fryer to 180°C

Serves:

2

Allergens:

Wheat, egg, fish
Description
Not only is this recipe easy to make, it's also a great way to get the kids into the kitchen, preparing their own food and learning how to cook. This recipe can be adapted for fish and chicken, but whichever you make we recommend serving your homemade fish fingers or chicken dippers with fresh peas, homemade chips and a dollop of Ballymaloe Relish on the side. Tasty, fun to make, full of flavour, and 100% natural – what more could you ask for?
Ingredients
Fresh fillet of cod / free-range chicken breast
Free-range eggs
Breadcrumbs
Self-raising flour
To serve:
Hand-cut chips
Fresh peas
Ballymaloe Relish
Method
Heat a deep fat fryer to 180°C.
Cut your fresh fillet of cod or free-range chicken breast to the desired size.
Put the flour, breadcrumbs and eggs into three separate bowls. Whisk up the eggs, then season the flour with salt & pepper.
Coat the cod/chicken in flour, dip into the beaten egg, and finally coat in breadcrumbs. Repeat with all pieces of cod/chicken.
Pop the bread-crumbed cod/chicken into the fryer for about 3–5 minutes, until cooked through and golden-brown. Transfer the fried fish or chicken to a bowl lined with kitchen paper to drain off any excess oil.
Serve with fresh peas, homemade chips and Ballymaloe Relish.