Feta and walnut tart with Ballymaloe Beetroot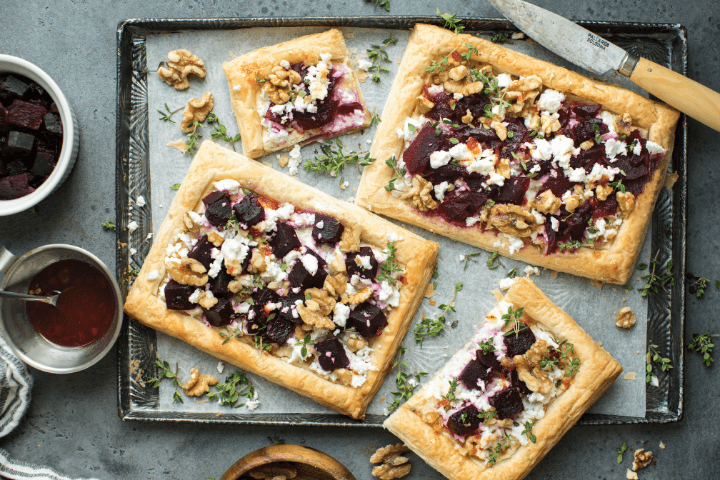 Cooking Time:

35 Minutes

Serves:

4

Allergens:

wheat/ dairy/ nuts
Description
This quick and easy Feta, walnut and Beetroot tart will become your favourite go-to easy entertaining recipe. It offers wow flavour and delivers.
Ingredients
Sheet of puff pastry defrosted (320g)
200g Ballymaloe Beetroot drained
200g Feta
150g Goat's cheese
3 tbsp. Cream
230g of Walnuts (115g for crumb and 115g grams whole)
Ballymaloe Fiery Relish
Runny honey
Fresh mixed herbs: parsley leaves, dill leaves, finely chopped chives
Method
Preheat the oven to 220°C/350°F/Gas Mark 4.
Place the puff pastry on a parchment-lined baking tray
Place another sheet of parchment on top and another baking tray on top of that (this is to offer a little weight so the pastry rises as evenly as possible and gives us a flat surface)
Place in the oven for 12-18mins or until evenly golden brown and cooked through. Check occasionally to ensure it does not burn. Remove from the oven and allow it to cool.
Using a magi mix/ blender blitz the walnuts and remove to a bowl.
Using the same magi mix/ blender blitz together the goat's cheese and feta until smooth. Remove to a bowl using a plastic spatula and stir in 2/3 tbsp of cream and 2 tbsp of walnut crumb to create a spreadable consistency. Taste and adjust seasoning (feta is salty so it may only need freshly cracked black pepper).
Place the baked pastry on a large serving board/ plate.
Spread the whipped feta and goats' cheese all over the surface (be careful, puff pastry is a little fragile)
Top with drained Ballymaloe Diced Beetroot.
Mix 1 tbsp of honey with 1 tsp of fiery relish and drizzle this all over.
Sprinkle over some roughly broken walnuts and freshly picked herbs.
Serve and wait for the oooooohhhhs and ahhhhhhsss in delight.