Homemade Sausage Rolls with Ballymaloe Relish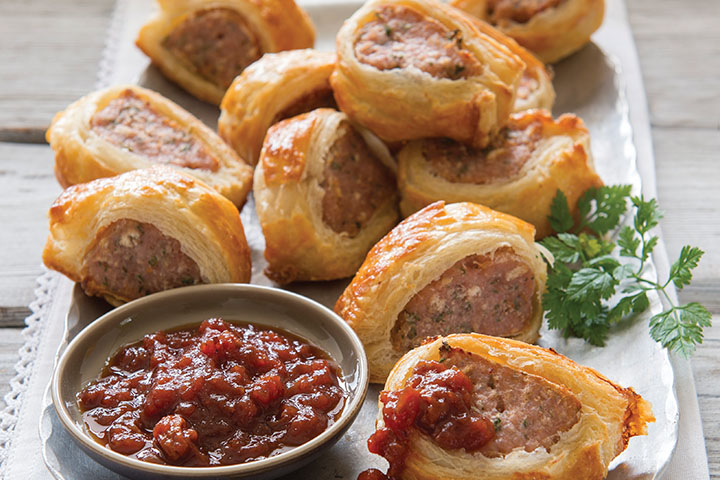 Cooking Time:

45 minutes - Preheat the oven to 180°C/350°F/Gas Mark 4

Serves:

8

Allergens:

Egg, wheat, dairy
Description
Sausage rolls sit firmly on our list of favourite comfort foods. Our recipe uses ready-made puff pastry and a good selection of herbs with garlic. Add in some Ballymaloe Relish and you've got the perfect combination of pastry, meat and moisture. Definitely a crowd-pleaser (although, once you've tasted them – you might not want to share!).
Ingredients
450g minced pork
1 clove garlic (crushed)
1-2 tsp thyme, marjoram, basil and rosemary (chopped & mixed)
1 free-range egg (beaten)
150g soft breadcrumbs
Salt & pepper to taste
For the pastry:
300g puff pastry (homemade or shop-bought)
1 free-range egg (beaten)
A little milk
Ballymaloe Original Relish
Method
Preheat the oven to 180°C/350°F/Gas Mark 4.
Combine all the ingredients for the sausages together and mix well.
Fry a little of the mixture in a pan to check the seasoning and adjust if necessary.
If using homemade puff pastry, roll out on a floured work surface, into a big rectangle a little thicker than a one euro coin. Cut lengthways into two long & even rectangles.
If using shop-bought puff pastry, cut lengthways into two, long, even rectangles.

Spread a thin layer of Ballymaloe Original Relish on each rectangle.
Roll the sausage mixture into sausage shapes with your hands and place them lengthways along the middle of each rectangle.
Mix the egg and milk and brush the pastry with this mixture, then fold one side of the pastry over, wrapping the filling inside.
Press down with your fingers or the edge of a spoon to seal.
Cut the long rolls into the sausage roll size you want and space them out on a baking tray.
Brush with the rest of the egg wash and bake in a preheated oven for 25 minutes or until puffed, golden and cooked through.
Serve with a big dippable dollop Ballymaloe Original Relish.