Hot Dog with Caramelised Leeks & Ballymaloe Pepper Relish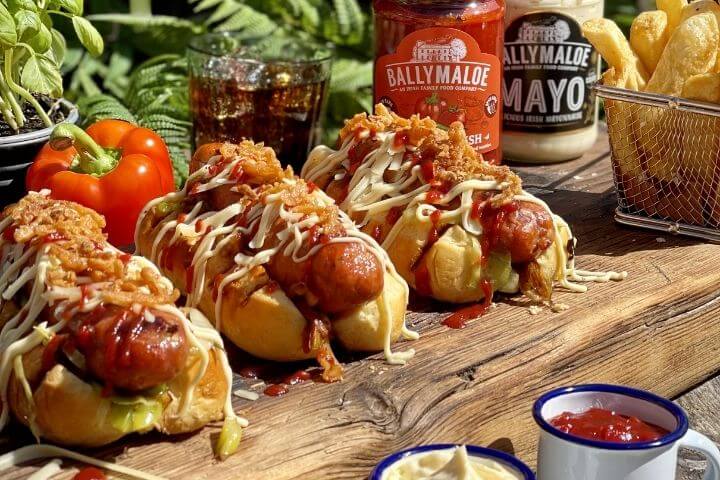 Cooking Time:

25 minutes

Serves:

4

Allergens:

Wheat, egg, mustard
Description
Lovely, caramelised leeks bring this tasty treat to another level, while the addition of Ballymaloe Relish or Pepper Relish adds a little spice to the mix. This is summer party food at its finest. We like to use a good-quality Irish pork sausage, but you can substitute any sausage of your choosing! A generous dollop of Ballymaloe Mayo is the proverbial (not literal) cherry on this (once again, not literal) cake. This hot dog demands to be eaten with your hands so we suggest having plenty of napkins at the ready!
Ingredients
4 large floury hot dog rolls
4 large Irish pork sausages
2 large leeks (sliced into half-inch rings)
100g grated Cheddar
50g butter
Salt & pepper
Olive oil
4 tsp crispy onions (optional)
Ballymaloe Relish or Pepper Relish
Ballymaloe Mayo
Dietary Suitability
Contains Mustard
Contains egg
Method
Melt the butter in a small saucepan and toss in the sliced leeks. Cover and place on a medium heat to soften and slightly wilt. This can take 5-8 minutes.
Remove the lid, increase the heat and continue to cook to caramelise the edges, stirring often. Make sure you lift any caramelisation from the base of the pot and incorporate it back into the leeks by stirring. Remove from the heat and keep warm.
Heat a frying pan on a medium heat. Add in a tablespoon of olive oil, followed by your sausages.
Cook the sausages on a controlled medium to low heat, turning occasionally to achieve an even golden-brown colour. Keep warm while you prep your hot dog.
Split the hot dog buns down their middle from the top.
Spread Ballymaloe Pepper Relish all over the cut buns and stuff with caramelised leeks, followed by the grated Cheddar. Pop the cooked sausages on top.

Top with Ballymaloe Pepper Relish and Ballymaloe Mayo and, finally, sprinkle generously with crispy onions.