Lamb Noisettes with Ballymaloe Mint Jelly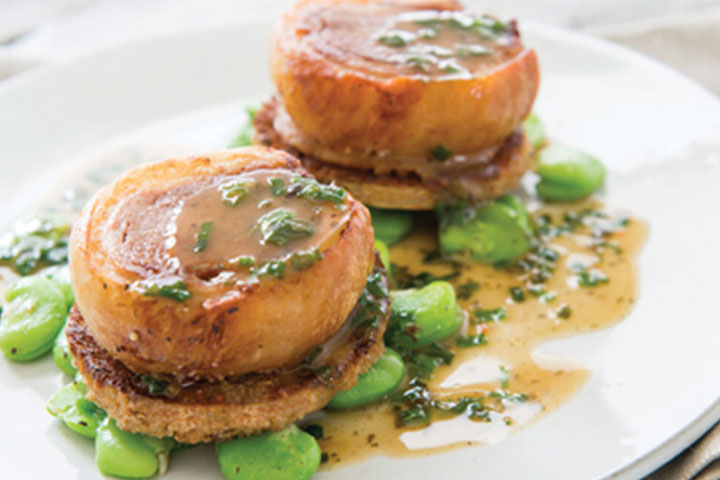 Cooking Time:

20 minutes

Serves:

1

Allergens:

Wheat, dairy
Description
Lamb noisettes are a lean and tender cut of meat – but a lamb steak works equally well with this recipe. Our sauce includes a little white wine and some spring onions, which marry well with the Ballymaloe Mint Jelly, further enhancing the lamb's naturally sweet flavour. Oh, and for those of you wondering, "noisette" is French for hazelnut, and refers to a small, round, lean piece of meat.
Ingredients
1-2 lamb noisettes
1-2 rounds of white bread
Butter and olive oil for frying
1 tsp spring onions (finely chopped)
1 tbsp dry white wine
1 tbsp chicken/vegetable stock
1 tsp roux
Salt & freshly-ground pepper
1 tsp Ballymaloe Mint Jelly
Method
Cut the bread into round croutons, about the same thickness as the lamb noisettes, and fry them in a little butter and oil until golden-brown. Keep warm while you cook the noisettes.
Melt a little more butter and oil in a pan, season the noisettes and fry for 3-4 minutes on each side until cooked, then remove from the pan.

To make the sauce, toss the spring onions into the pan, sweat for a few minutes, then add the wine and stock.
Bring to the boil to deglaze the pan.
Thicken very slightly with a little roux and stir in a tiny knob of butter and your Ballymaloe Mint Jelly.
Arrange each noisette on a croûton, spoon a little of the sauce on top and serve immediately on warm plates.