Lamb Noisettes with Ballymaloe Mint Jelly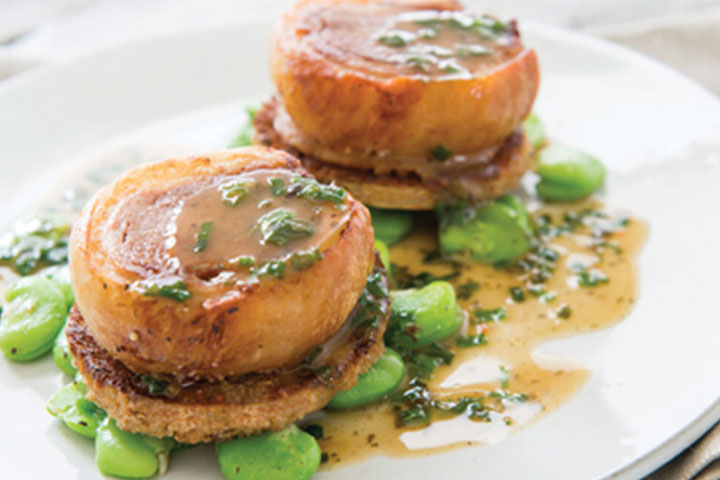 Cooking Time:

20 minutes

Serves:

1

Allergens:

wheat, dairy
Description
Lamb noisettes are lean and tender and are a lovely cut of meat. You can also use lamb steak in this recipe if you don't have noisettes. The sauce uses a little white wine and spring onion, which marry well with the Ballymaloe Mint Jelly, bringing out the flavour of the lamb.
Ingredients
1-2 Noisettes of lamb
Salt and freshly ground pepper
1-2 Rounds of white bread
Butter and olive oil for frying
1 Heaped teaspoon spring onions (finely chopped)
1 Tablespoon of dry white wine
1 Tablespoon of chicken or vegetable stock
1 Teaspoon of roux
1 Teaspoon Ballymaloe Mint Jelly
Method
Cut the bread into round croutons, about the same thickness as the lamb noisettes, and fry them in a little butter and oil, until golden brown. Keep warm while you cook the noisettes.
Melt a little more butter and oil in a pan, season the noisettes and fry for 3-4 minutes on each side until cooked, then remove from the pan.

To make the sauce, toss the spring onions into the pan, sweat for a few minutes, then add the wine and stock.
Bring to the boil to deglaze the pan.
Thicken very slightly with a little roux and stir in a tiny knob of butter and your Ballymaloe Mint Jelly.
Arrange each noisette on a croûton, spoon a little of the sauce on top and serve immediately on warm plates.