Minted Lamb Burgers with Ballymaloe Mint Jelly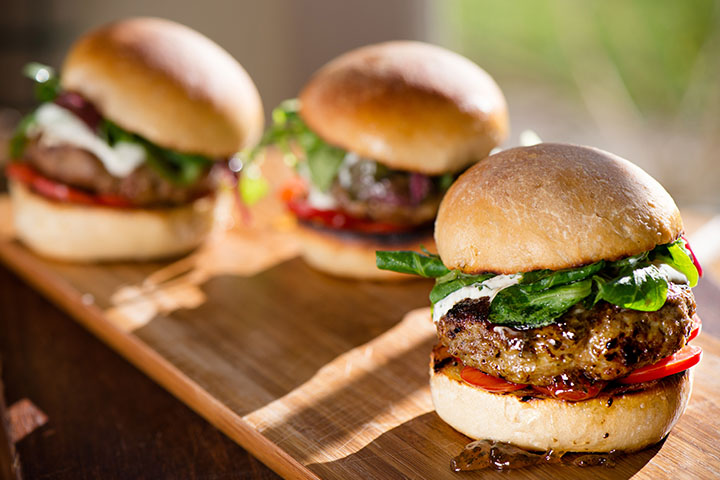 Cooking Time:

1 hour - Preheat the oven to 200°C/400°F/Gas Mark 6

Serves:

4

Allergens:

Egg, wheat, dairy
Description
These lamb burgers have a hint of Middle-Eastern and North African flavours, with cumin seeds and mint bringing the taste of the Mediterranean. By adding Ballymaloe Mint Jelly to the burger mix you'll get a real depth of flavour: its tangy mix of white wine vinegar, apple juice and, of course, mint balance with the fat of the lamb perfectly. Served with some chunky potato wedges, this is a burger like no other!
Ingredients
4 white floury batch rolls (crushed)
500g lamb mince
4 tbsp Ballymaloe Mint Jelly
4 baking potatoes (cut into wedges)
2 tbsp olive oil
2 tsp cumin seeds (crushed)
1 free-range egg (beaten)
50g fresh breadcrumbs
100ml Greek-style natural yoghurt
2 tbsp fresh mint (chopped)
1 handful salad leaves (beaten)
1 tomato (sliced)
Freshly-ground black pepper
Method
Preheat the oven to 200°C/400°F/Gas Mark 6.
Put the potato wedges on a baking tray, drizzle over 1 tablespoon of the oil and bake for 35 minutes, until crisp and golden.
Meanwhile, combine the lamb mince, 3 tablespoons of Ballymaloe Mint Jelly, cumin seeds, egg and breadcrumbs in a large bowl, then season with freshly-ground black pepper and shape into four burgers.
Chill in the fridge for 10 minutes.
Spoon the yoghurt into a small bowl and mix in the chopped, fresh mint.
Season with freshly-ground black pepper and set aside.
Brush the burgers with the remaining oil, then cook under the grill for 15-20 minutes, turning once, until fully cooked through.
Meanwhile, toast the burger buns. Serve the burgers in the toasted buns, smeared with the remaining Ballymaloe Mint Jelly.
Add a dollop of the minty yoghurt sauce and your seasoned tomato, before serving with a side of Ballymaloe Mint Jelly and your potato wedges.