Minted Lamb Burgers with Ballymaloe Mint Jelly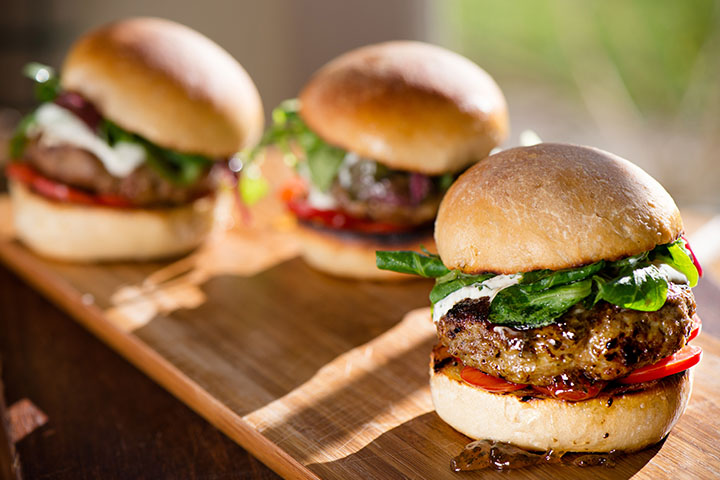 Cooking Time:

1 hour

Serves:

4

Allergens:

egg, wheat, dairy
Description
These lamb burgers have a hint of Middle-Eastern and North African flavours, with cumin seeds and mint bringing the taste of the Mediterranean. We add Ballymaloe Mint Jelly to the burger mix; its tangy mix of white wine vinegar, apple juice and mint balance with the fat of the lamb to give a burger with a real depth of flavour.
Ingredients
4 Baking potatoes (cut into wedges)
2 Tablespoon olive oil
1 x 500g Pack of lamb mince
4 tbsp Ballymaloe Mint Jelly
2 tsp Cumin seeds (crushed)
1 Medium free-range egg (beaten)
50g Fresh breadcrumbs
100ml Greek-style natural yoghurt
2 Tablespoons fresh mint (chopped)
4 White floury batch rolls (crushed)
1 Handful of salad leaves (beaten)
1 Tomato (sliced)
Method
Preheat the oven to 200°C, fan 180°C, Gas Mark 6.
Put the potato wedges on a baking tray, drizzle over 1 tablespoon of the oil and bake for 35 minutes, until crisp and golden.
Meanwhile, combine the lamb mince, 3 tbsp of Ballymaloe Mint Jelly, cumin seeds, egg and breadcrumbs in a large bowl, season with freshly ground black pepper and shape into four burgers
Chill in the fridge for 10 minutes
Spoon the yoghurt into a small bowl and mix in the chopped fresh mint
Season with freshly ground black pepper and set aside
Brush the burgers with the remaining oil, then cook under the grill for 15-20 minutes, turning once, until fully cooked through
Meanwhile, toast the burger buns
Serve the burgers in the toasted buns, smeared with the remaining Ballymaloe Mint Jelly
Add a dollop of the minty yoghurt sauce, alongside salad and slices of seasoned tomato.