An Egg-Cellent Omelette with Ballymaloe Relish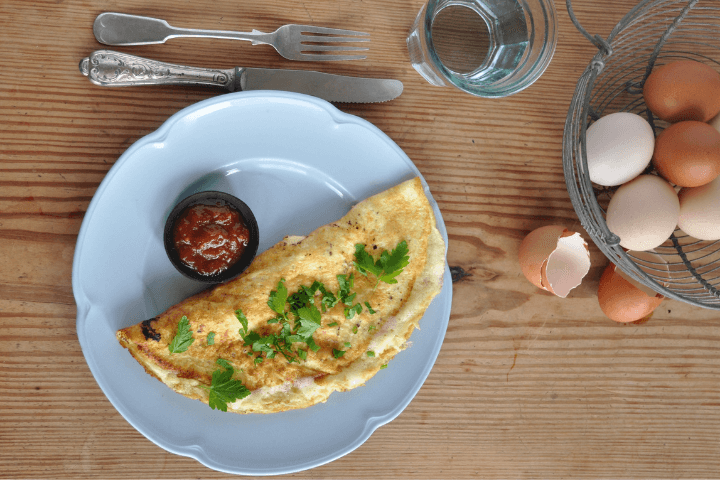 Cooking Time:

8 minutes

Serves:

1

Allergens:

Eggs, dairy
Description
People always say that omelettes are a quick & easy meal, but they forget to add that they can be delicious too. To ensure your omelette is egg-xactly right, use eggs that are at room temperature. Cold eggs take longer to set and this can result in overcooking. To make a lovely, fluffy omelette, add a small amount of milk or cream to your eggs before adding to the pan. Finally, pick the perfect pan. Non-stick is a given, but size matters also: a pan that's to big will cook the omelette too quickly, while a pan that's too small may cook your omelette on the outside only – and an underdone omelette is no yolk. We can only apologise for our egg puns – we must be cracking up. Serve with Ballymaloe Relish or, for a gentle hint of heat, Ballymaloe Pepper Relish to complete this delicious dish.
Ingredients
3 free-range eggs (at room temperature)
30ml water
½ tsp butter
1 tsp parsley (chopped)
1 tsp chives (chopped)
Salt & pepper
A dash of milk / cream (optional)
Method
Pop your eggs, water and seasoning into a bowl. Add your milk / cream if looking for an even fluffier omelette. Whisk until the eggs froth up to three times their original bulk. This will probably take a few minutes, so don't worry - it WILL happen!
Heat the butter in a pan. Just before it turns brown, pour in the egg mixture. Reduce to a medium heat.
When the bottom of the omelette is set, sprinkle in the herbs, which should sink through the frothy top.
Remove from the heat when still slightly runny under the froth. Serve straight from the pan with Ballymaloe Relish or Ballymaloe Pepper Relish on the side.