Ploughman's Sandwich with Ballymaloe Relish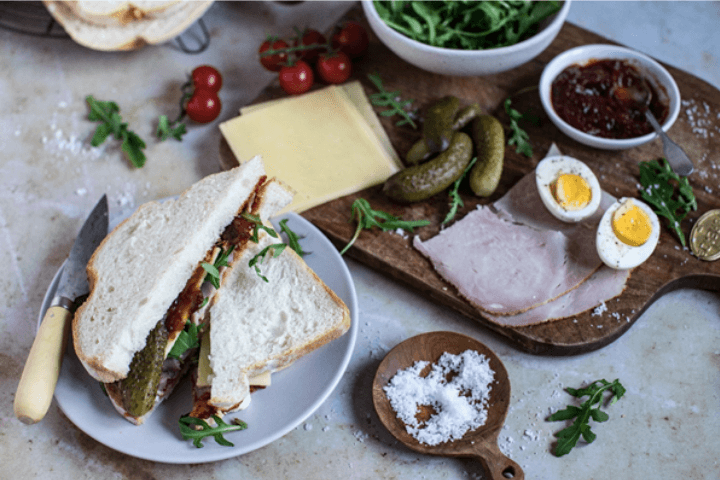 Cooking Time:

10 minutes

Serves:

2

Allergens:

Wheat, dairy, mustard seeds
Description
The Ploughman's Sandwich is a cracking lunch or picnic option and has everything you need to please every member of the audience. Deconstructed, it turns into a Ploughman's Lunch, allowing people to pick up all their favourite bits & pieces, while taking or leaving the bread! Have an extra jar of Ballymaloe Relish to hand as this is the glue that makes this combination work so beautifully – and you don't want to run out!
Ingredients
4 slices bread
Butter
4 slices smoked ham
4 gherkins
120g Cheddar cheese
Handful of rocket
2 free-range eggs (boiled & sliced)
Ballymaloe Relish
Dietary Suitability
Contains wheat
Contains dairy
Contains mustard seeds
Method
Butter the slices of crusty white bread all the way to the edges, then slather each side with Ballymaloe Relish.
Build your sandwich by layering the smoked ham, followed by the sliced gherkins, Cheddar cheese, sliced boiled egg, rocket, and finally the lid. Serve with more Ballymaloe Relish on the side.