Ploughman's Sandwich with Ballymaloe Original Relish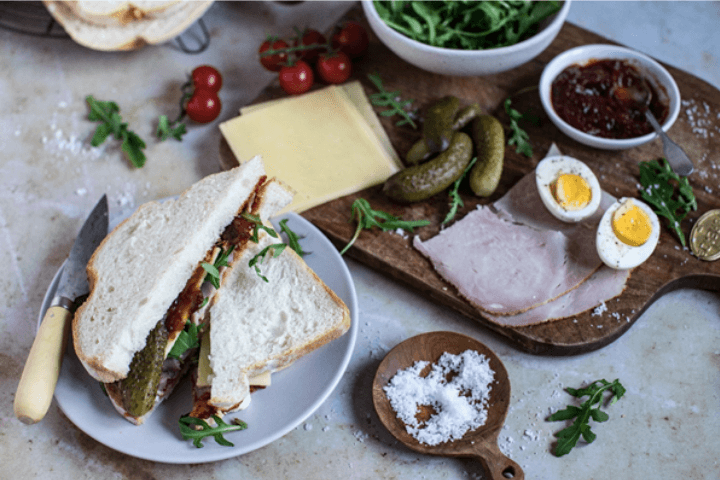 Cooking Time:

10 minutes

Serves:

2

Allergens:

Contains wheat, contains dairy, contains mustard seeds
Description
The Ploughman's sandwich is a cracking lunch or picnic option. It has everything you need to please every member of the audience. It is also absolutely fabulous deconstructed especially if you are entertaining and you do not know what your guests like or dislike, it allows them to fill a plate of their favorite bits and take or leave the bread. Have an extra jar of Ballymaloe Original Relish as this is the glue that makes this combination work so beautifully!
Ingredients
4 slices bread of your choice
Butter
4 slices of smoked ham
4 gherkins
120g cheddar cheese
Handful of Rocket
2 sliced boiled eggs
2 heaped tbsps. Ballymaloe Original Relish
Dietary Suitability
Contains wheat
Contains dairy
Contains mustard seeds
Method
Butter the slices of crusty white bread all the way to the edges.
Slather each side with Ballymaloe Relish.
Build your sandwich by layering the smoked ham, followed by the sliced gherkins, cheddar cheese, sliced boiled egg, rocket, and finally the lid.
Carefully cut in half using a serrated knife and serve with extra relish on the side.