Roast Apple and Parsnip Salad with Ballymaloe Beetroot and Feta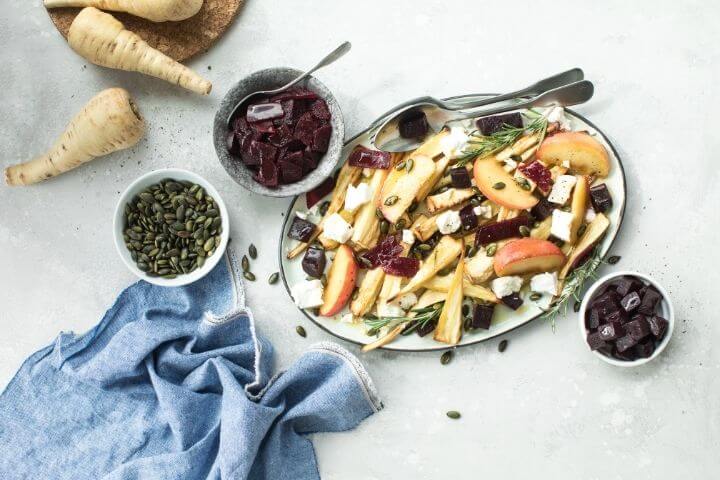 Cooking Time:

45 minutes

Serves:

4

Allergens:

Dairy
Description
This Irish fruit and root veg salad with apple, parsnip and Ballymaloe Irish Beetroot is a real rustic beauty. Another terrific family-style dish. A simply delicious salad that would work beautifully with a BBQ'd spatchcock chicken. A wonderful Summer Celebratory Salad.
Ingredients
4x parsnips
2 large eating apples
4 sprigs of rosemary
100g Crumbled feta
50g Ballymaloe diced Irish Beetroot drained
75g Ballymaloe sliced Irish Beetroot drained
40g Toasted salted pumpkin seeds
Extra virgin olive oil
Half a lemon
Local honey
Dietary Suitability
Suitable for Vegetarians
Contains Dairy
Method
Peel the parsnips and cut in half keeping the tapered end whole if very slim. Cut the remainder into 1" batons. Place in a bowl and toss in 1 large tablespoon of olive oil and the rosemary sprigs.
Place on a parchment lined tray and season. Roast in a preheated oven at 220* for 15/25 mins until cooked and golden. Remember to turn halfway.
Cut the apples in half and then quarters, carefully remove the core and cut each quarter into 2 slices. Place in a bowl and toss with 2 tablespoons of olive oil.
Place on a parchment lined tray. And bake at 230* for 10/20 mins or until golden on the edges. Turn carefully using a palette knife and continue to cook until golden. Remove from oven.
Taking a large serving platter, scatter over the base the roasted parsnips. Intermittently place the roasted apple wedges. Position the two types of Beetroot in-between the apple and parsnip. Crumble over the feta.

Then finish with toasted pumpkin seeds, a drizzle of extra virgin olive oil, a squeeze of fresh lemon juice, sprinkling of sea salt, freshly cracked black pepper and finish with a delicious drizzle of local honey
Eat and enjoy every delicious mouthful.