Black Pudding, Beef & Ballymaloe Beetroot Salad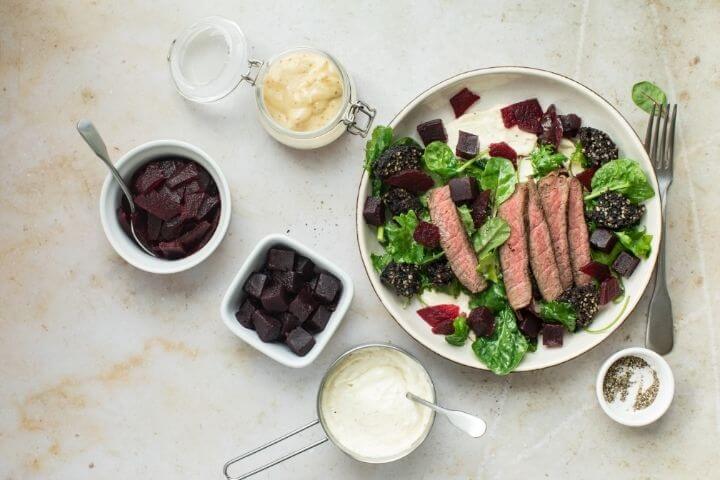 Cooking Time:

30 minutes

Serves:

4

Allergens:

Eggs
Description
This simple and filling salad with black pudding, beef and Ballymaloe Sliced Irish Beetroot is sure to impress., showcasing standout flavours.
Ingredients
2 sirloin / fillet steaks
200g Clonakilty black pudding (cut into 8 slices)
150g Ballymaloe Sliced Irish Beetroot (drained)
100g mixed leaves
Sea salt & freshly-cracked black pepper
Ballymaloe Honey & Mustard Dressing
4 tbsp Ballymaloe Mayo, mixed with 1 tbsp grated horseradish (or 2 crushed garlic cloves)
Dietary Suitability
Contains mustard
Not suitable for vegetarians
Contains egg
Method
Heat a non-stick frying pan or grill pan until smoking. Rub a spoon of extra virgin olive oil on to the steaks and season well with sea salt & freshly-cracked black pepper.
Pop onto the smoking pan and cook to your preference on both sides, then allow to rest for at least 5 minutes before slicing.

In a clean pan (gentle to medium heat), pop in a tablespoon of extra virgin olive oil, before adding in the black pudding. Turn to cook both sides and, once fully cooked, set aside.

Toss the mixed leaves in a clean bowl with a generous drizzle of Ballymaloe Honey & Mustard Dressing.
Mix the Ballymaloe Mayo with the horseradish (or garlic cloves), then spread liberally on the base of a large plate.

Cover with mixed leaves and then add your drained beetroot slices.
Slice the steak, season generously then place haphazardly on the plate. Break the cooked pudding slices in half and pop on top.

Eat immediately and bring a healthy appetite with you!