Sausage & Cheddar Quiche with Ballymaloe Relish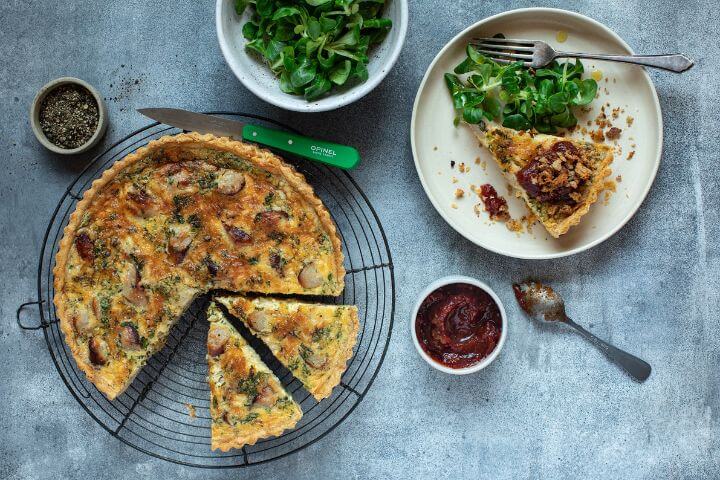 Cooking Time:

Serves:

8

Allergens:
Description
A quiche is a classic dish, perfect for breakfast, brunch, lunch, or dinner. It's an impressive centrepiece on any table but it also tastes as delicious as it looks. Our recipe includes a sourdough crumble topping and a dollop of Ballymaloe Relish to add extra flavour.
Ingredients
Shortcrust Pastry
175g plain white flour
75g butter
1 egg yolk
2 tsp cold water
FIlling
1 tbsp olive oil
175g cooked sausage (chopped)
100g onions, (chopped)
3 eggs and 2 egg yolks
300ml double cream
1 tbsp chopped parsley
1 tbsp chopped chives
110g mature cheddar cheese (grated)
Salt and freshly ground black pepper
Ballymaloe Relish
Green salad
Sourdough crumble (see method below)
Dietary Suitability
Contains Dairy
Contains Gluten
Not Suitable for Vegetarians
Method
Preheat the oven to 180°C
For the pastry, sieve the flour and salt into a large bowl.
Cut the butter into cubes. Toss in the flour and then rub in with your fingertips until the mixture looks like coarse breadcrumbs.
Whisk the egg yolk and add some water. Using a fork, add just enough liquid to bring the pastry together, then collect it into a ball with your hands.
Roll out the pastry on a lightly floured worktop and line the 23cm (9 inch) diameter baking tin. The pastry should come up just above the top of the tin. Line with kitchen paper and fill to the top with dried beans. Chill for 15 minutes
Blind bake the tart shell for 25 minutes at 180°C. Remove the beans and paper. The base should be almost fully cooked. Remove the parchment paper and beans, brush the base with a little beaten egg and replace in the oven for 3-4 minutes.
Heat the oil in a sauté pan and add the chopped onions to the pan. Sweat gently on a low heat in the same oil for a further 10 minutes, keeping pan covered
Meanwhile, whisk the eggs in a medium-sized bowl. Add the cream, herbs, cheese, sausage pieces and onions. Mix well and add seasoning. Fry off a tsp to taste and adjust seasoning if needed.
Pour the filling into the pastry base and return to the oven for 30–40 minutes or until the centre has just set.
To serve, spread the top of the tart in Ballymaloe Relish. Top with sourdough crumble then serve with a scoop of green salad.
Sourdough Crumble: Take leftover sourdough on a daily basis and blitz into chunky crumbs. Freeze and use on demand.
In a bowl, place the defrosted sourdough crumb, drizzle over olive oil to barely coat.
Place on a baking tray and bake until lightly golden in a 180°C oven. Remember to stir the crumbs so you get an even bake. Use as needed.