Cheese & Herb Frittata with Ballymaloe Relish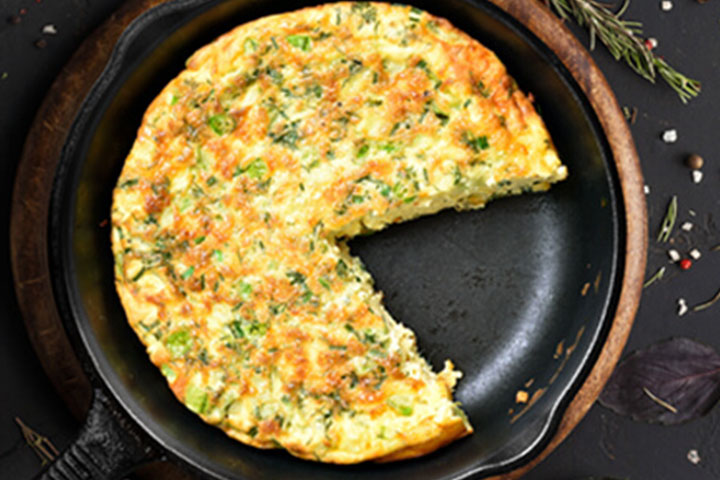 Cooking Time:

20 minutes - Preheat the oven to 220°C/425°F/Gas Mark 7

Serves:

4

Allergens:

Egg, dairy
Description
Making a frittata is an easy (and tasty!) way to use up any leftover cheese (and feel free to mix cheeses too!). Our recipe includes Ballymaloe Relish in the frittata mixture, but we recommended popping some more on the side for dipping! A simple green salad, with Ballymaloe Honey & Mustard Dressing, is a great accompaniment to this simple dish.
Ingredients
6 eggs
200g cheese of your choice (grated or crumbled)
Ballymaloe Relish
200ml cream or milk (or a mixture of both)
50g butter
2 tsp parsley (chopped)
2 tsp chives (chopped)
Salt & pepper
Ballymaloe Honey & Mustard Dressing (for your green salad)
Method
Preheat the oven to 220°C/425°F/Gas Mark 7.
Break the eggs into a mixing bowl, add the milk or cream and season with salt & pepper. Whisk thoroughly until the whites and yolks have completely blended.
Mix in one tablespoon of Ballymaloe Relish with your cheese and herbs.
Season with a little salt & pepper.
Melt the butter in a large oven-proof frying pan. When foaming, add your egg mixture to the pan.
Scrape the cooked mixture from the outside into the centre, filling any space with liquid. Repeat 5 or 6 times over a minute.
Place the oven-proof pan in the pre-heated oven and cook for 5-7 minutes, or until the mixture has set in the centre. When it's ready, carefully slide the frittata on to a large plate and serve warm or at room temperature, with a crisp green salad, dressed with Ballymaloe Honey & Mustard Dressing, and some Ballymaloe Relish on the side.