Spinach and Mushroom Omelette with Ballymaloe Relish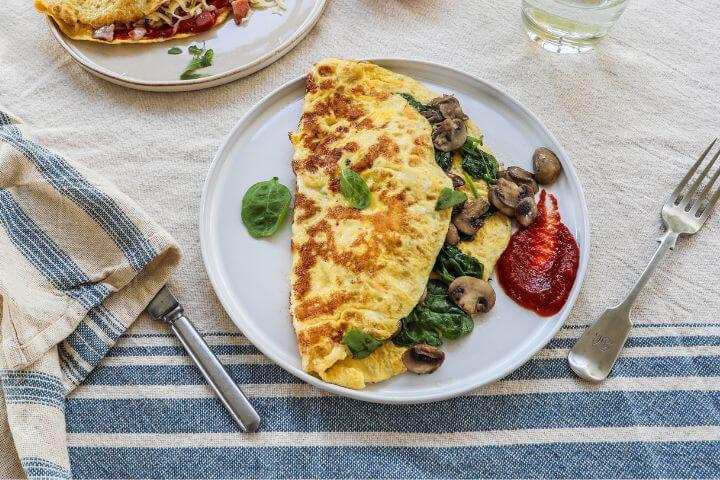 Cooking Time:

10 minutes plus prep time of around 10 minutes

Serves:

1 person as a main dish

Allergens:

eggs
Description
Omelette is one of the easiest egg-based dishes you can make, you are safe in the knowledge that if it all goes wrong you can call it scrambled eggs! Once you nail the technique for how to make a gorgeous, fluffy omelette it's a fun dish to play around with, adding different ingredients to create both sweet and savoury masterpieces. Pair with a dollop of Ballymaloe Relish, and voila!
Ingredients
3 medium free-range eggs
2 tbsp semi-skimmed milk
2 tsp butter
1 tsp sunflower oil
Salt and pepper to season
A handful of fresh spinach
Cayenne pepper
100g closed cup white mushrooms (sliced)
2 tbsp Ballymaloe Relish
Method
To make a start on the omelette, whisk together your eggs, milk, salt and pepper in a bowl and set to one side. Gently heat the teaspoon of butter, along with the sunflower oil in a non-stick frying pan, swirling them together as the butter melts to ensure the entire pan is coated.
Once the butter has melted, pour the egg mix into the pan, swirling again to completely coat the pan. Using a spatula, push the egg mix from the sides of the pan towards the middle, then tilt the pan so that raw egg mix from the centre fills the gap - this will allow for an even cook. The omelette needs to be cooked for 2-3 minutes
Meanwhile, in a separate pan, heat the remaining butter on a medium heat and add the sliced mushrooms. After the mushrooms have been cooking for 2 minutes, add the spinach and Cayenne pepper. Cook for a further minute until the spinach begins to wilt.
Spread 1 tablespoon of Ballymaloe Relish to one half of your omelette. Then add the filling to the top of your omelette before folding over and sliding onto a warm plate. Add a generous dollop of Ballymaloe Relish to complement the subtle flavours of the omelette.