Steak Tacos with Crunchy Coriander Salad and Ballymaloe Pepper Relish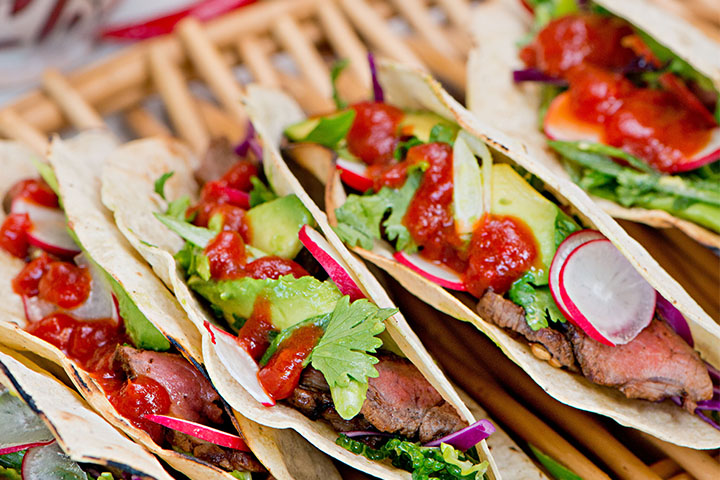 Cooking Time:

35 minutes

Serves:

2

Allergens:

n/a
Description
One of Mexico street food's gifts to the world, tacos are versatile and can deliver a great mix of flavours. Ballymaloe Pepper Relish is the perfect topping for steak tacos as its blend of tomatoes, red peppers and jalapeños complement the meat and coriander. Serve with some homemade guacamole on the side.
Ingredients
250g Striploin steak
4 Soft corn tortillas
180g Shredded savoy or purple cabbage
2 Scallions (halved and cut finely lengthwise)
1/2 Small red onion (cut finely into half moons)
4 Radishes (cut thinly)
20g Coriander
1 Lime
2 Tablespoons of Ballymaloe Pepper Relish
Salt and pepper
Method
Marinate the steak in advance with some olive oil, salt and pepper and refrigerate. Allow the steaks to come to room temperature before cooking. Heat a griddle pan until hot and then add the steaks. Cook for 3-4 minutes per side (for medium-rare) depending on thickness.
When cooked, remove from the pan and allow to stand for about 10 minutes.
Prepare your salad by mixing the shredded cabbage, scallion, red onion and coriander and radish together.
Heat the corn tortilla in the oven or on a pan.
Squeeze lime juice over the salad and a little salt and pepper to taste.
To assemble the tacos, add the crunchy coriander salad, slices of steak and top with Ballymaloe Pepper Relish.