Chicken Tacos with Ballymaloe Original Relish or Pepper Relish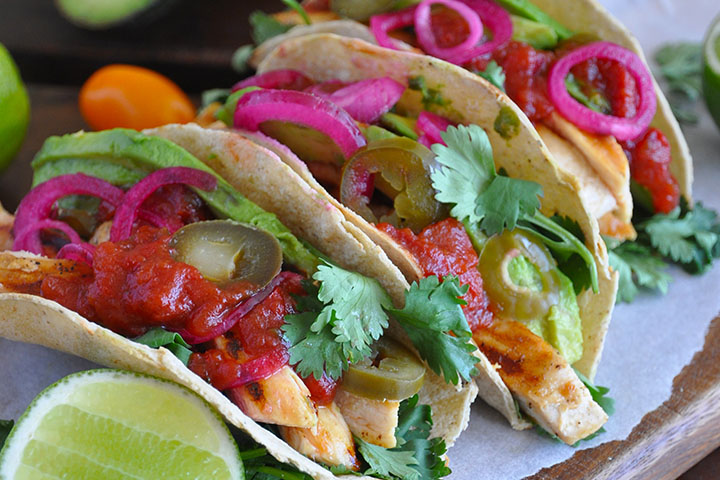 Cooking Time:

25 minutes

Serves:

4

Allergens:

wheat
Description
To make the pink pickled onions in this recipe, place some finely sliced red onion into a small jar with a few tablespoons of the pink vinegar from a jar of Ballymaloe Beetroot. Leave to pickle for at least 30 minutes before adding to the tacos. Coupled with the jalapeño toppings and those in the Ballymaloe Pepper Relish or Original Relish, it gives a lovely added layer of flavour.
Ingredients
2 chicken breasts
8-12 soft flour tortillas
4 tbsp Ballymaloe Pepper Relish or Original Relish
1 avocado (sliced)
2 tbsp coriander (freshly chopped)
1 lime (cut into wedges)
1 tsp pickled jalapenos (finely chopped)
2 tbsp pink pickled onions
Method
Place a heavy griddle pan over a medium heat.
Lay the chicken breast on a chopping board and flatten with your palm. Slice horizontally to butterfly the breast.
Toss the chicken in a little olive oil then season the chicken with sea salt and freshly cracked black pepper. Preheat a pan-grill, fry the chicken on the griddle until completely cooked, turning halfway through. Set aside to rest before slicing.
Warm the tortillas by placing them on a dry, hot frying pan
Once warmed through, fill each tortilla with strips of chicken, slices of avocado and fresh coriander.
Spoon a dollop of Ballymaloe Pepper Relish or Original Relish over each taco and scatter some finely chopped jalapenos and pickled onions over the top. Serve right away.