Welsh Rarebit with Ballymaloe Steak Sauce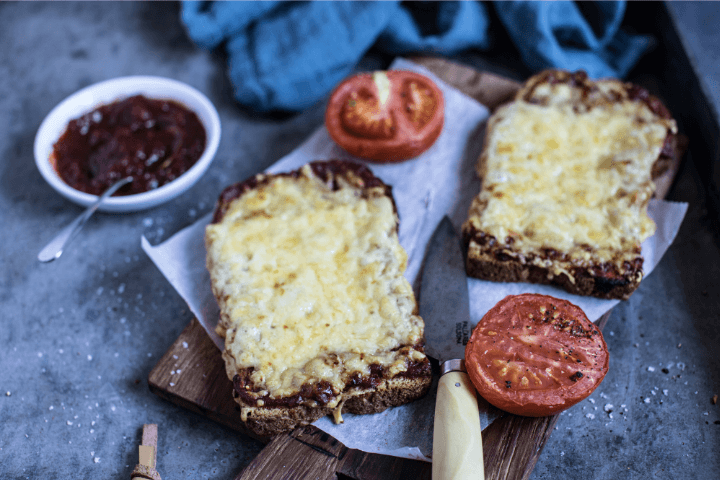 Cooking Time:

20 minutes

Serves:

2

Allergens:

Gluten, dairy, mustard
Description
Look up the definition of the phrase 'cheese perfection' and you'll probably find the words 'Welsh Rarebit' close by. This British dish has a hot, cheese-based sauce, which is served on thick, crunchy toast. Ballymaloe Steak Sauce brings the flavours of Dungarvan Irish Stout to this moreish, melty marvel of a meal. One tip: don't plan anything to strenuous after eating this – it's comfort food at its finest and the only thing that should follow Welsh Rarebit with Ballymaloe Steak Sauce is a nap! For those who'd prefer not to add beer, a commensurate amount of milk works just as well.
Ingredients
4 slices of bread of your choice
Butter
120g Cheddar
1 tbsp Ballymaloe Steak Sauce
30g flour
30g butter
115ml beer (of your choice)
1 tsp mustard
Black pepper
Dietary Suitability
Suitable for Vegetarians
Contains mustard
Contain dairy
Contains gluten
Method
Pre-heat your grill. In a small saucepan on a medium heat, melt the butter, then add in the flour.
Stir to combine and continue stirring as you cook this mixture for 2 minutes. Make sure it does not stick to the bottom of the saucepan!
Gradually pour in the beer between each addition and use a whisk to combine. Whisk vigorously to prevent lumps. Once a smooth mixture has formed, add in your grated Cheddar and stir until melted & combined.
Remove from the heat, then stir in the mustard, Ballymaloe Steak Sauce and a generous pinch of freshly-cracked black pepper.
Toast your bread and butter it well.
Pile on the delicious cheesy mixture and spread to the edges. Pop-under your preheated grill and cook until browned and bubbling. Serve immediately with more Ballymaloe Steak Sauce for dipping.