Breakfast Muffins with Ballymaloe Relish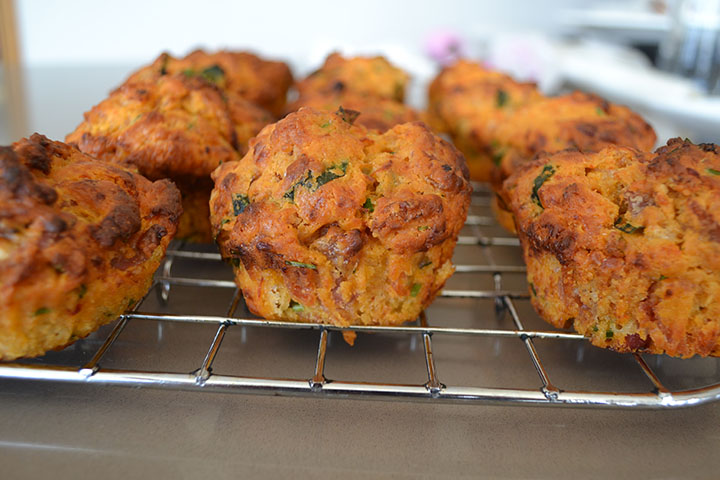 Cooking Time:

40 minutes - Preheat oven to 170°C/325°F/Gas Mark 3

Serves:

12

Allergens:

Wheat, dairy, eggs, sulphites
Description
Julie Andrews might have counted a crisp apple strudel as one of her favourite things, but – for us – it's a perfectly-made muffin with cheese, prosciutto and a generous helping of Ballymaloe Relish (our Pepper Relish is just as tasty, but with a little bit of a kick!) To ensure your muffins are the best they can be, don't over-stir your mix. Once the ingredients have come together, put your stirring spoon down! Stick to this rule and you are guaranteed light, delicious muffins.
Ingredients
375g self-raising flour
300g prosciutto/ham (finely sliced/chopped)
1 cup wild garlic leaves or baby spinach (chopped)
¼ cup chives (chopped)
180g Cheddar cheese (grated)
125ml extra virgin olive oil
250ml milk
2 free-range eggs (whisked)
Sea salt & cracked black pepper
140g Ballymaloe Relish or Ballymaloe Pepper Relish (plus extra to serve)
Muffin tin (125ml x 12)
Method
Preheat your oven to 170°C/325°F/Gas Mark 3. Place the flour, relish, prosciutto, wild garlic, chives, Cheddar, oil, milk, eggs, salt and pepper in a large bowl and mix until just combined.
Divide the mixture between 12 lightly-greased muffin tins, lined with paper cases, and cook for 25 minutes or until they leave a skewer clean.
Turn out on to a wire rack to cool slightly. Serve with an extra, generous dollop of Ballymaloe Relish or Pepper Relish.