Chicken and Bacon Omelette with Ballymaloe Relish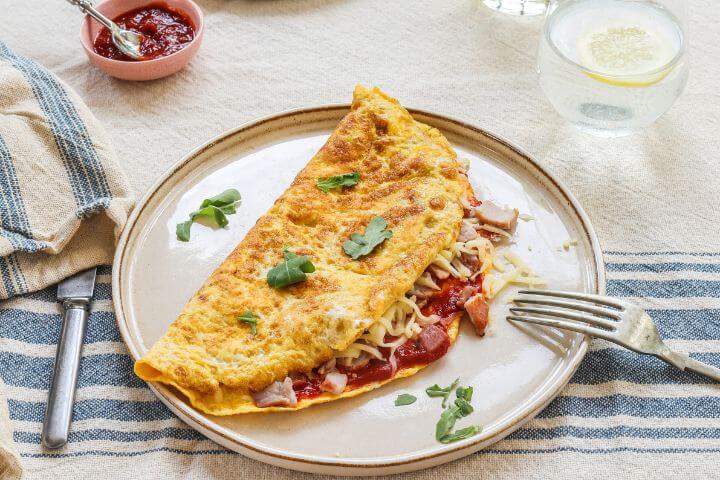 Cooking Time:

15 minutes plus prep time of around 10 minutes

Serves:

1

Allergens:

eggs
Description
Omelette is an incredibly versatile and simple way of using up any leftovers. This protein-rich egg omelette serves as a perfect base for both sweet and savoury dishes; it can also be a fantastic cost-effective approach to using up small amounts of leftover meats or vegetables that ordinarily would be thrown away. Add a dollop of Ballymaloe Relish to compliment this savoury dish.
Ingredients
3 medium free-range eggs
2 tbsp semi-skimmed milk
1 tsp butter
2 tsp sunflower oil
Salt and pepper to season
1 tbsp tomato relish
100g bacon lardons
60g mozzarella
100g roast chicken
1 tbsp Ballymaloe Relish
Method
This dish is an ideal way to use up any leftovers from your Sunday roast - simply shred the remaining chicken and set it to one side. If you do not have leftover chicken and want to eliminate the effort of roasting, use a rotisserie chicken from the supermarket or even a pack of cooked chicken fillets.
On a medium heat, add 1 teaspoon of sunflower oil, followed by the bacon lardons, and cook for 5 minutes, or until the fat on the bacon's edge starts to turn golden in colour. Once cooked, add the bacon to the shredded chicken.
For the omelette, whisk together your eggs, milk, salt, and pepper in a bowl and set to one side. Gently heat the 1 teaspoon of butter, along with the sunflower oil, in a non-stick frying pan, swirling them together as the butter melts to ensure the entire pan is coated.
Once the butter has melted, pour the egg mix into the pan, swirling again to coat the pan thoroughly. Using a spatula, push the egg mix from the sides of the pan towards the middle, then tilt the pan so that raw egg mix from the centre fills the gap - this will allow for an even cook. The omelette needs to cook for 2-3 minutes
Once the omelette is cooked through, spread the Ballymaloe Relish over half of it, then top with the chicken, bacon, and a sprinkle of mozzarella before folding the other half over the top. The heat from the omelette will melt the cheese giving you that amazing, sought after cheese pull. Slide the omelette onto a plate and garnish with a little rocket. Rocket is the best salad choice to serve with this cheesy, tomatoey brunch; the pepperiness of the leaves compliments the blend of Italian-inspired flavours beautifully.