Chicken Puttanesca with Orzo using Ballymaloe Hidden Veggies Pasta Sauce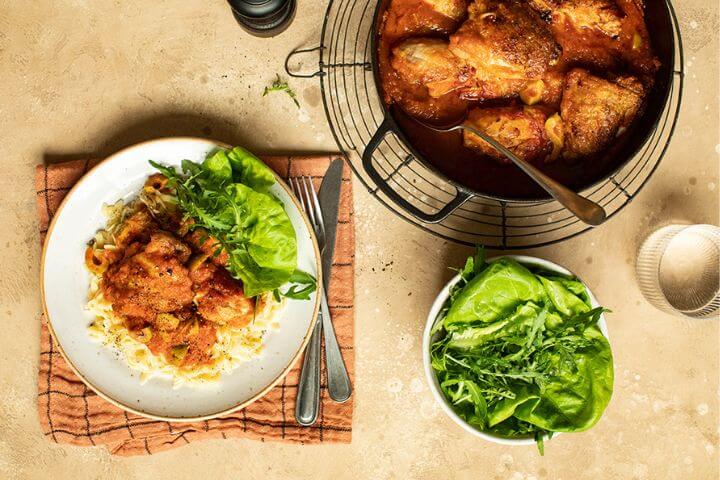 Cooking Time:

45 minutes

Serves:

4-6

Allergens:

cereals containing gluten, celeery
Description
This quick, simple and delicious dinner is even more tasty and nutritious because our Ballymaloe Hidden Veggies Pasta Sauce ensures you are getting your veggies in without having to peel or chop them yourself. Serve this delicious recipe with your favourite pasta or rice. We have popped it with butter glazed orzo for that extra layer of deliciousness but don't be afraid to add your favourite side. This rich supper dish is elevated with the addition of a leafy green salad with a simple citrus dressing.
Ingredients
3lbs of chicken legs and thighs- skin on and bones in
1 jar of Ballymaloe Hidden Veggies Pasta Sauce
Water
1 tsp Ballymaloe Fiery Relish- optional
16 green olives- stoned
2 strips of lemon peel
1 tsp garlic powder
1 tsp onion powder
Olive oil
Orzo
200g orzo
4 pints water
1.5 tsp salt
15-25g butter
Salt and freshly ground pepper
Method
Preheat the oven to 180*.
Dry the chicken pieces using kitchen paper.
Heat a non-stick frying pan. Toss the dried chicken pieces into a bowl with 2 tablespoons of olive oil. Toss to coat fully.
Once the pan is smoking, add in half the chicken pieces. (You are aiming to seal the chicken for four minutes on each side. You must also ensure not to overcrowd the pan, hence why you cook in batches.) Once the chicken is a rich golden brown on all sides, transfer to an ovenproof dish with lid.
Carefully add 4fl oz of warm water to the pan and using a wooden spoon, stir to lift any caramelised juices, pour this through a sieve onto the sealed chicken.
Reheat the pan until smoking and repeat until all of the chicken is sealed and rich golden brown.
Sprinkle the onion and garlic powder over the chicken. Stir to combine.
Pour over the entire jar of Ballymaloe Hidden Veggies Pasta Sauce and a teaspoon of Ballymaloe Fiery Relish. Add 8fl oz of water to the pasta sauce jar, replace the lid and shake to dislodge any sauce, pour this tomato water over the chicken. Stir carefully to combine.
Add a pinch of salt and sugar, lots of freshly cracked black pepper and two strips of lemon.
Stir and place the casserole in the preheated oven for 15 minutes then pop on the lid and continue to cook for a further 30 minutes. For the last 5 minutes, carefully add in the olives, stir to combine. Pop back on the lid for the remaining cooking time.
Check that the chicken is cooked- carefully remove a leg and thigh to a plate. The chicken must be firm to the touch and ready to fall off the bone, all juices must run clear. If cooked, place the chicken back into the sauce and taste. Adjust if necessary. Keep warm with the lid on at 100*.
To cook the orzo. Bring the water to a fast rolling boil and add salt. Sprinkle in the orzo, cook for 8-10 minutes. Drain, rinse under hot water, and toss with a little butter.
On warm plates, place a spoon of buttered orzo. Then top with a great big spoon of the Hidden Veggies Puttanesca and serve with a great big green salad.