Homemade Chicken Galette with Ballymaloe Fiery Relish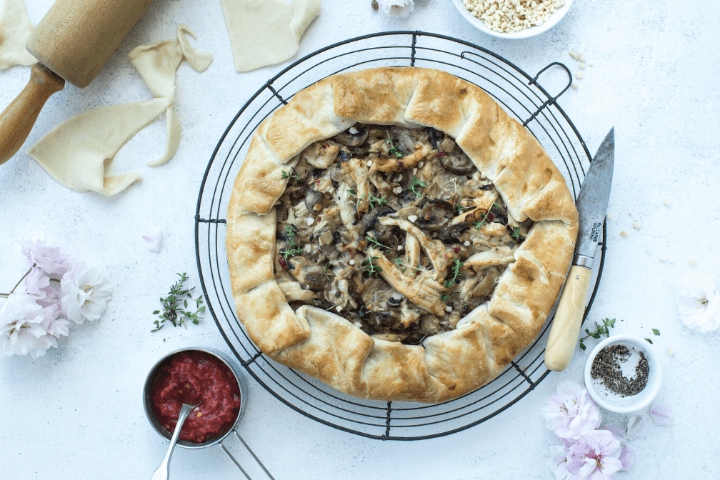 Cooking Time:

1 hour 15 minutes - Preheat the oven to 200°C/425°F/Gas Mark 7

Serves:

4-6

Allergens:

Wheat, egg, dairy, nuts
Description
A galette is the French catch-all term for a pastry base, topped with either sweet or savoury fillings, with the edge roughly folded in, to create a rustic-looking pie or tart. Our chicken galette with Ballymaloe Fiery Relish is comfort food at its finest. In fact, it's a big, warming hug in a pie! The nibbed almonds this recipe calls for are specially prepared, skinned almonds, cut into pieces about 2mm square, but these can be omitted as a matter of choice.
Ingredients
Puff pastry x 2 sheets (defrosted) (320g x 2)
150g-200g leftover roast chicken
2 onions (finely chopped)
300g mushrooms (sliced)
1 free-range egg (beaten)
50g butter
130ml cream
50g roux (flour & melted butter or oil in equal parts)
Salt & freshly ground pepper
1 tbsp Ballymaloe Fiery Relish
75g toasted nibbed almonds (optional)
Dietary Suitability
Not suitable for vegetarians
Contains nuts
Contains wheat
Method
Preheat the oven to 200°C/425°F/Gas Mark 7.
Melt the butter in a heavy saucepan until it foams. Add the chopped onions, cover and sweat on a gentle heat for 5-10 minutes or until quite soft but not coloured, then remove the onions to a bowl.
In a hot frying pan, cook the sliced mushrooms (in batches if necessary). Season each batch with salt & freshly-ground pepper. Add the mushrooms to the onions in the saucepan, then add the cream and allow to bubble for a few minutes.
Sprinkle in some of the roux and thicken the sauce slightly. Taste and correct the seasoning, then add the toasted almonds (optional) and Ballymaloe Fiery Relish. Allow to cool fully then stir in the chicken and taste. Adjust seasoning if necessary.
Cut out a circle of puff pastry from each sheet, by cutting around a large dinner plate. Place one of the circles on a parchment-lined tray.
Spoon the thickened mixture into the centre of the pastry, leaving a 1 inch gap all the way along the outside of the pastry.
Egg wash this gap and pop on the lid.
Using a fork, seal the edges. Egg wash the lid, then use the back of a knife to create waves, coming from the top to the base and repeat. Make an air hole in the top of the pastry so the steam can escape in order for the pastry to cook fully.
Place in the fridge or freezer to chill.
Once chilled, pop the tart into your pre-heated oven and bake for 15 minutes. Then reduce the temp to 180°C and continue to cook until the pastry is a rich golden brown (another 15-20 minutes).
Once fully baked, remove from the oven and cool for 5-10 minutes. Leave the pie on the tray sitting on a wire rack.
Serve warm with a crisp, green salad.