Easy Chicken Tikka Masala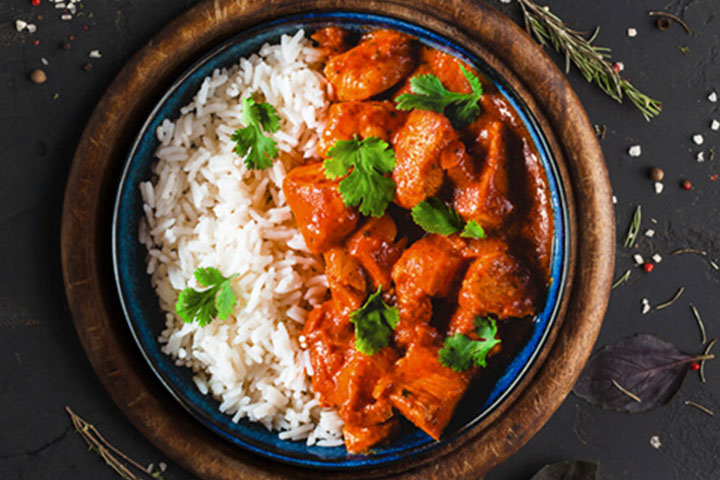 Cooking Time:

25 minutes

Serves:

4

Allergens:

dairy, wheat
Description
Probably one of the favourite Indian inspired dishes, chicken tikka masala has a lovely blend of tomatoes with creamy coconut milk. Ballymaloe Original Relish adds an extra layer to the dish, with our blend of tomatoes and spices. It's a great introduction to fusion food for children too.
Ingredients
500g Boneless and skinless chicken (cut into bite-sized chunks)
50g Butter
250g Onions (sliced)
3 Cloves of garlic (finely chopped)
2 Teaspoon ginger (grated)
1 400g tin of coconut milk
1 400g of Italian chopped tomatoes
2-3 Teaspoons curry powder (we recommend a Tandoori blend)
3 Tablespoons Ballymaloe Original Relish
Juice from ½ a lime
Salt and pepper
Boiled rice (to serve)
Method
Melt the butter in a heavy-bottomed saucepan over a low heat.
Add the onions, garlic and ginger, cover and cook for 8-10 minutes stirring regularly until the onions have softened.
Add the chicken pieces and season with salt and pepper.
Cook for a further 5 minutes, stirring regularly.
Add the tomatoes and curry powder and cook for 5 minutes, before adding the coconut milk.
Bring to the boil and simmer gently for 10 minutes with the lid off; then add the Ballymaloe Original Relish and enough lime juice to taste.
Season to taste and serve with boiled rice.