Chicken Tikka Masala with Ballymaloe Relish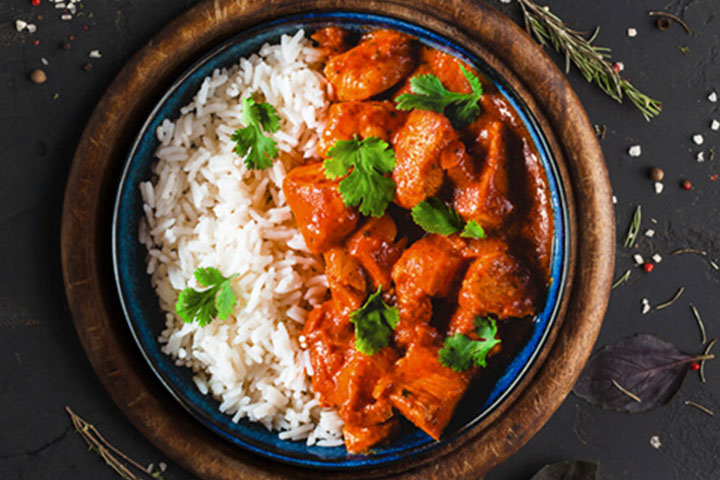 Cooking Time:

25 minutes

Serves:

4

Allergens:

Dairy, wheat
Description
Probably one of the most well-known and well-loved Indian dishes, Chicken Tikka Masala has a lovely blend of tomatoes with creamy coconut milk. Ballymaloe Relish adds an extra layer to the dish, with our carefully-balanced blend of tomatoes and specially-selected spices. Mild yet moreish, a Chicken Tikka Masala is also a great way to introduce children to the wonders of fusion food!
Ingredients
500g boneless and skinless chicken (cut into bite-sized chunks)
50g butter
250g onions (sliced)
3 garlic cloves (finely chopped)
2 tsp ginger (grated)
1 tin coconut milk (400g)
400g Italian chopped tomatoes
2-3 tsp curry powder (we recommend a Tandoori blend)
3 tbsp Ballymaloe Relish
Juice from ½ a lime
Salt & pepper
Boiled rice (to serve)
Method
Melt the butter in a heavy-bottomed saucepan over a low heat.
Add the onions, garlic and ginger, cover and cook for 8-10 minutes stirring regularly until the onions have softened.
Add the chicken pieces and season with salt & pepper.
Cook for a further 5 minutes, stirring regularly.
Add the tomatoes and curry powder and cook for 5 minutes, before adding the coconut milk.
Bring to the boil and simmer gently for 10 minutes with the lid off, then add the Ballymaloe Relish and enough lime juice to taste.
Season to taste and serve immediately with boiled rice.