Crushed Avocado on Toast, with a Sunny Side Up Egg & Ballymaloe Relish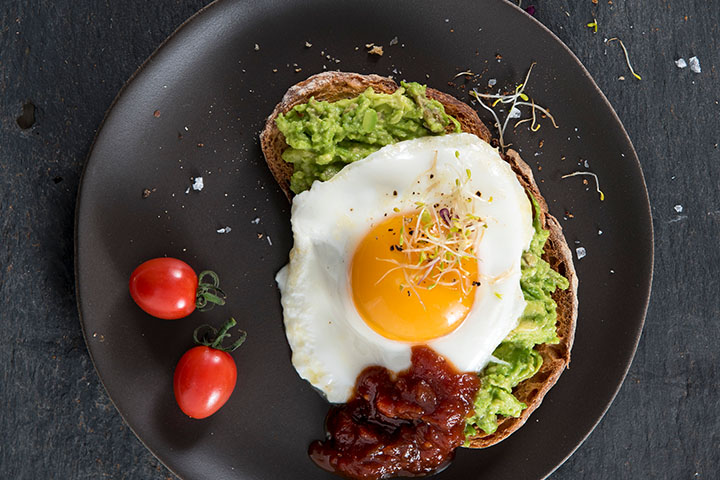 Cooking Time:

12 minutes

Serves:

1

Allergens:

Egg, gluten
Description
Avocado and egg are a lovely combination – while the addition of Ballymaloe Relish brings the whole dish together. A good sourdough bread is just right for this simple dish, but any bread will suffice, as long as it's thick enough to take the toppings! A sunny side up egg (or, in other words, a fried egg with a soft yolk) adds some gooey goodness, while you can also add some roughly-smashed broad beans for some additional texture.
Ingredients
1 slice of bread (preferably sourdough)
1 ripe avocado
1 free-range egg
1 tsp mint
A squeeze of lime juice
Red or green chilli (finely chopped) (optional)
1-2 tbsp extra virgin olive oil
Sea salt & freshly-cracked black pepper
Ballymaloe Relish
Method
Carefully remove the avocado flesh from its skin and mash with a fork. Add the mint and a squeeze of lime. Season with salt, then mix well. If you like a little heat, add in some finely-chopped chilli.

Heat a little olive oil in a heavy-bottomed frying pan. Toast the bread in the pan for about 2 minutes each side, or until golden around the edges, ensuring it has absorbed all the oil. Take out and set aside. Wipe the pan out with a piece of kitchen paper and put it back on the heat.
When the pan begins to sizzle again, fry the egg in a little olive oil (2-3 minutes for a sunny side up egg, where the whites will be just set, but the yolk still gooey).
Spread the avocado mixture over the toasted bread. Pop the egg on top and serve with a plentiful helping of Ballymaloe Relish on the side.