Falafel with Ballymaloe Relish & Mayo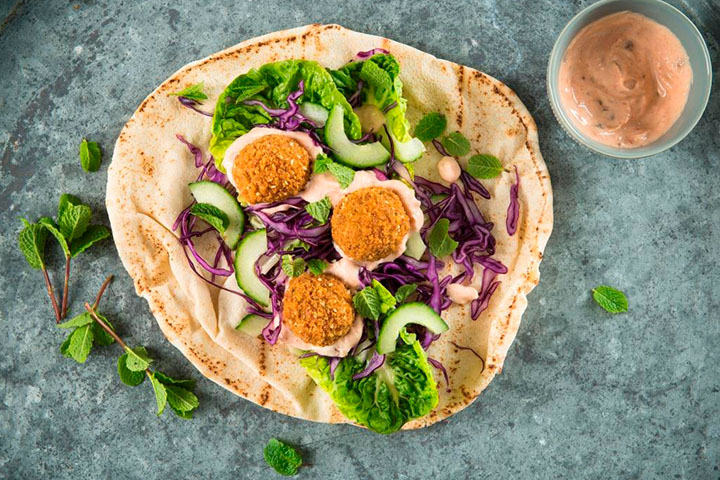 Cooking Time:

45 minutes

Serves:

1-2

Allergens:

Wheat, eggs, mustard
Description
This traditional Middle Eastern street food is commonly served with pitta bread, or wrapped in a flatbread. For the perfect platter of finger-food, serve your falafel with a bowl of hummus or baba ganoush, with some pickled chillis or tomatoes (sprinkled with extra virgin olive oil and sea salt).
Ingredients
400g chickpeas (canned)
3 garlic cloves (crushed)
1 small onion (finely chopped)
1 tsp coriander (ground)
1 tsp cumin (toasted & ground)
1 tsp parsley (chopped)
1 tbsp flour
To serve:
Chopped cucumber
Grated carrot
1 tbsp Ballymaloe Relish
1 tbsp Ballymaloe Mayo
Method
To make the falafel, blend the chickpeas, garlic, onion, spices and parsley in a food processor until smooth.
Empty into a bowl, add in the flour and season to taste (expect a strong taste, which will mellow when the mixture is cooked).
Mix the Ballymaloe Relish and Ballymaloe Mayo in a separate bowl then set aside.
Heat the oil in a frying pan on a medium heat. Flour your hands and shape the mixture into 4 patties.
Fry your patties in the frying pan over a low-medium heat until golden on both sides (3 to 4 minutes on each side).
Serve the falafel in a warmed pitta or flatbread and add a generous spoonful of your relish & mayo mixture.
Finally, add some fresh finely-chopped cucumber and grated carrot for a little crunch.