Fiery Relish Ramen Soup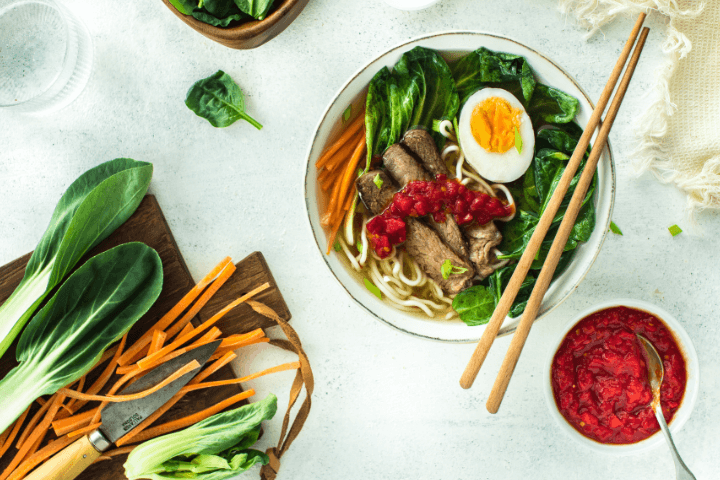 Cooking Time:

25 minutes

Serves:

4

Allergens:

Egg, wheat
Description
This Japanese noodle soup packs a fiery punch, thanks to the inclusion of Ballymaloe Fiery Relish (which definitely lives up to its name!). While we love this recipe, feel free to make your own substitutions and additions as a proper ramen soup should be one of a kind! We use one tablespoon of Ballymaloe Fiery Relish in this recipe – but if you think you can take the heat, add some more!
Ingredients
32 fl oz homemade chicken broth
250g dried egg noodles
600g cooked chicken/pork/beef/tofu
1 tbsp Ballymaloe Fiery Relish
3 cloves of garlic
2" fresh ginger (peeled & smashed)
150g spinach
150g carrot (peeled & cut into thin strips)
Pak choi (roughly chopped)
Spring onions (thinly sliced at an angle)
4 soft-boiled eggs (peeled)
Sea salt
Crispy onions (optional)
Dietary Suitability
Not suitable for vegetarians
Method
Place the broth, garlic, ginger and Ballymaloe Fiery Relish in a large saucepan.
Bring to a boil and simmer gently for 10 minutes.
Add the noodles and cook for the recommended time on the packet.
For the last 3 minutes of cooking, add in the pak choi, spinach, carrots, and your protein of choice, then bring back to a quick boil, before simmering to the end of the cooking time. Taste and adjust seasoning using sea salt.
Spoon into large bowls and sprinkle the spring onions and crispy onions on top.
Halve each egg and pop on top of each bowl - then serve immediately!