Fiery Vegetarian Lasagne, made with Ballymaloe Italian Tomato Pasta Sauce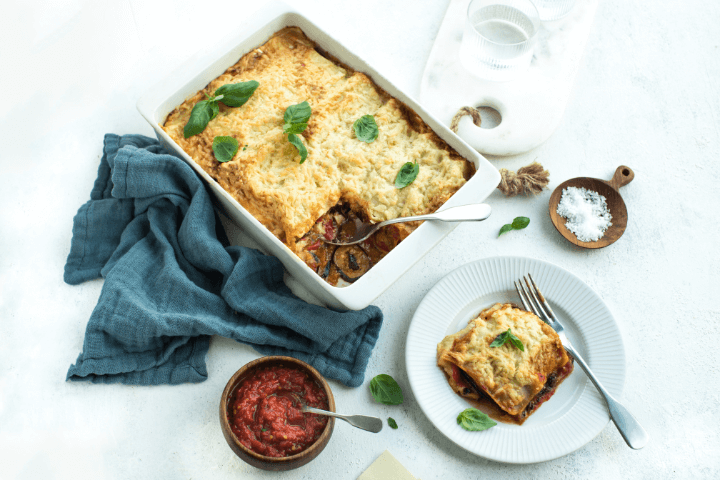 Cooking Time:

1 hour 30 minutes - Preheat the oven to 220°C/425°F/Gas Mark 7

Serves:

6

Allergens:

Wheat, dairy, egg, mustard
Description
This delicious lasagne is packed full of veggies: aubergine, courgette, onion, roast peppers & spinach – not to mention the tomatoes packed into Ballymaloe Italian Tomato Pasta Sauce – but there's always room for more, so feel free to add in extras as you go. Made using Ballymaloe Fiery Relish, this lasagne has a sizable amount of spice, but the creamy homemade cheese sauce (see method below) will add some mellow notes. Mouth-wateringly moreish, be prepared to be asked for this recipe to friends & family once they've tried it!
Ingredients
12-16 sheets of lasagne
Ballymaloe Italian Pasta Sauce (400g)
2 large onions (chopped)
3 medium aubergines (sliced)
3 medium courgettes (sliced)
1 jar (250g) roast red peppers (drained)
500g spinach (destalked, cooked & drained)
6-8 tbsp olive oil
3 garlic cloves (crushed)
Ballymaloe Fiery Relish
Handful of basil leaves
Sea salt & freshly-cracked black pepper
Sugar
To make your cheese sauce:
500ml milk
50g plain flour
50g butter
100g mature Cheddar
1 tsp Dijon mustard
Method
Preheat the oven to 220°C/425°F/Gas Mark 7.
In a medium-sized saucepan, add 2 tablespoons of olive oil and the chopped onions. Place on a medium heat, pop on the lid and sweat gently for 8 minutes, or until softened but not coloured. Add the garlic and stir for a further 2 minutes.

Add in your jar of Ballymaloe Italian Pasta Sauce. Put 20ml of water in the empty jar, pop the lid back on and swirl around to remove any additional sauce, then add it to your pan. Let it bubble for 5 minutes, then add a dessertspoon of Ballymaloe Fiery Relish and some shredded basil leaves. Take off the heat and set aside.
Using a pastry brush, brush each slice of courgette and aubergine with olive oil and place on a parchment-lined tray. Bake one tray at a time for 10-15 minutes, then flip over the vegetable slices and continue to cook for a further 10-15 minutes or until golden brown.
In another saucepan, melt the butter, stir in the flour and cook on medium-high heat for 5 minutes, stirring continuously.
Add in the milk slowly by whisking continuously, and bring it to a boil. Remove from the heat and stir in the cheese and mustard. Season your cheese sauce, and set aside.
Turn your oven temperature down to 180°C/350°F/Gas Mark 4.
Using a large baking dish. place a spoonful of your tomato mixture on the base, then add some vegetables (just enough to cover). Season with salt & pepper, then top with pasta sheets, followed by a layer of your cheese sauce.

Repeat until your ingredients are all used up (aim for three layers, finishing with a cheesy sauce lid).
Bake for 1 hour until golden and bubbling, then allow to sit for 15 minutes so it can be easily cut into portions.
Enjoy with a great big green salad & garlic bread.