Fiery Vegetarian Lasagne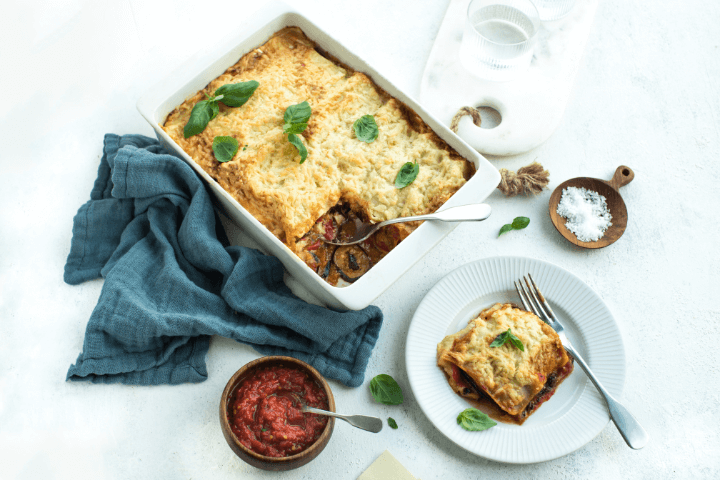 Cooking Time:

1hr 30mins

Serves:

6

Allergens:

contains dairy, mustard, wheat, egg
Description
This is such a delicious vegetarian lasagne that freezes brilliantly and tastes so fresh and delicious with a little kick of heat that gently lingers. Be prepared to be asked for the recipe so print a few more copies to give to your guests at the end of the meal.
Ingredients
6/8 tbsp olive oil
2x large onions- chopped
3 medium sized aubergine sliced
3 medium courgettes sliced
3 garlic cloves crushed
1 jar (250g) of roast red peppers drained
500g spinach- destalked, cooked and drained
Ballymaloe Italian Pasta Sauce
Ballymaloe Fiery Relish
Handful of basil leaves
Sea salt and freshly cracked black pepper, sugar
12/16 sheets of lasagne
CHEESE SAUCE
500ml milk
50g plain flour
50g butter
100g mature cheddar
1 tsp Dijon mustard
Method
Preheat your oven to 220* conventional.
In a medium-sized saucepan add 2 tbsp olive oil and the chopped onions. Place on medium heat and pop on the lid and sweat gently for 8 mins or until softened but not coloured. Add the garlic and stir two minutes from the end.

Add in the jar of Ballymaloe Italian Pasta Sauce. Bubble for 5 mins and taste. Adjust seasoning if necessary and tear in the basil, add a dessertspoon of Ballymaloe Fiery Relish. Take off the heat and set aside.
Using a pastry brush, brush each slice of courgette and aubergine with olive oil and place on a parchment lined tray or trays (don't over crowd a tray). Bake one tray at a time for 10/15 mins then flip over the veg slices and continue to cook for a further 10/15 mins or until cooked and golden.
In another saucepan, melt the butter and stir in the flour, cook on medium-high heat for 5 mins, stirring. Add in the milk slowly by whisking continuously and bring to a boil. Remove from the heat and stir in the cheese and mustard. Season and set aside.
Turn the oven to 180*.
Using a large baking dish place a spoon of tomato mixture on the base, tear over some roasted peppers, sprinkle over some wilted spinach, top with a mixture of baked aubergine and courgette slices, season with salt and pepper, top with pasta sheets and spread this with a layer of cheese and repeat until your ingredients are all used up (aim for three layers and finishing with a cheesy sauce lid.
Bake for 1 hr until golden and bubbling.
Allow to sit for 15 mins so it cuts easier.
Enjoy with a great big green salad and garlic bread.