Grilled Walnut Crusted Halloumi Burger with Avocado & Ballymaloe Diced Irish Beetroot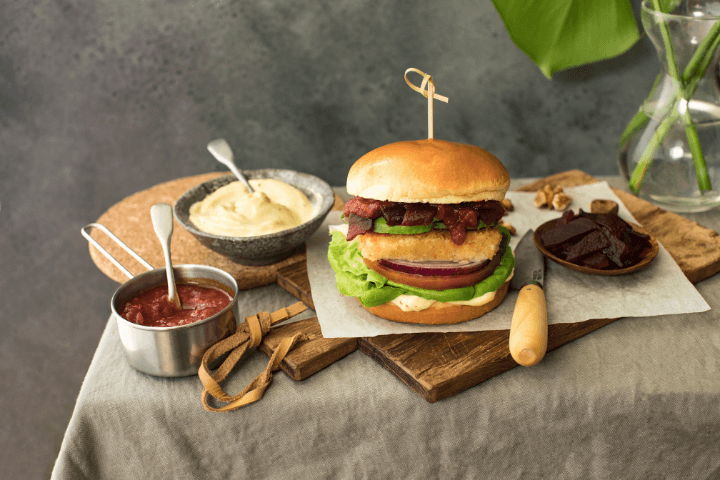 Cooking Time:

30 minutes

Serves:

2

Allergens:

Nuts, wheat, eggs, dairy
Description
Say 'hello, halloumi' to this absolutely delicious burger, that will hit the right spot each and every time. Enjoy the marvellous meltiness of the halloumi, the creaminess of the avocado, the earthiness of those walnuts and the delightful, sweet yet sharp notes of Ballymaloe Diced Irish Beetroot all in one bite. Serve with Ballymaloe Pepper Relish on the side for a little bit of heat.
Ingredients
2 brioche burger buns
225g block of halloumi (cut in half across the equator then drained & dried in kitchen paper)
150g walnuts (blitzed into a crumb)
1 free-range egg (beaten)
1 beef tomato (sliced)
¼ red onion (thinly sliced)
1 avocado (sliced, tossed in a little olive oil & seasoned)
50g plain flour (sieved & seasoned)
Handful of salad leaves
Ballymaloe Mayo
Ballymaloe Pepper Relish
Method
Mix the walnut crumb and breadcrumbs together and set aside in a bowl. Put the seasoned flour in a separate bowl, and the beaten egg in a third bowl.
Preheat a non-stick frying pan with a half-inch of olive oil.
Take the dried halloumi and place it in the flour first, then the beaten egg, and finally the nutty crumb and carefully place it in the heated oil.
Cook until golden on both sides, then drain on kitchen paper.
Prepare the brioche bun by spreading Ballymaloe Mayo on the base and Ballymaloe Pepper Relish on the lid.
Layer up your tomatoes, red onion, walnut-encrusted burger, sliced avocado and lettuce, before popping on the brioche bun lid.
Serve an extra ramekin of Ballymaloe Pepper Relish with each burger... it's so good that you are always left wanting more!