Irish Beetroot Hummus, Parma Ham and Goat's Cheese Crostini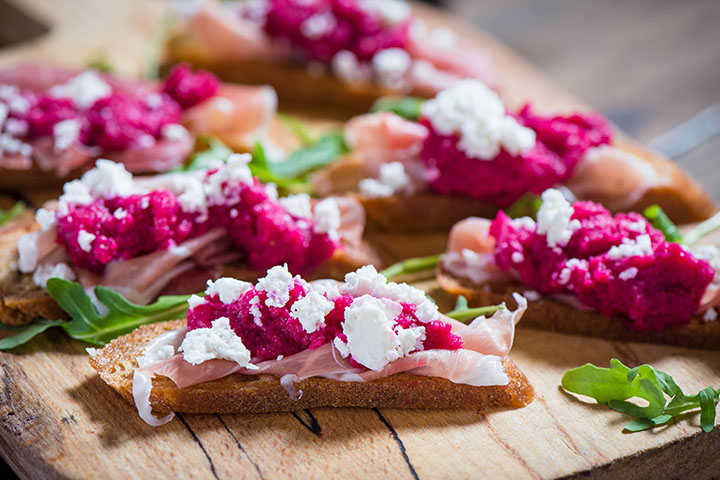 Cooking Time:

15 mins

Serves:

10

Allergens:

dairy, wheat, sulphites
Description
Beetroot has made something of a comeback in recent years, with delicious roasted beet recipes alongside classic feta and beetroot salad combinations. If you haven't tried beetroot hummus, you're missing out on a rich earthy taste. Ballymaloe's Irish Beetroot is locally grown and this crostini and beetroot hummus recipe combines it with goat's cheese and Parma Ham. It's a lovely mix of smooth, salty, earthy and crunchy and it's well worth a try.
Ingredients
240g tinned chickpeas (drained)
1 garlic clove
1 tbsp extra virgin olive oil
Salt and cracked black pepper
10 small slices of Parma ham
50g Greek style Irish Goat's Cheese
10 slices of baguette or sourdough bread cut into similar size
Drizzle of olive oil
200g Ballymaloe Irish Beetroot (drained)
Method
Place the beetroot and the chickpeas in a food processor, along with the clove of garlic and blitz until smooth in texture.
Add olive oil, salt and pepper to taste.
Slice the bread, drizzle with olive oil, and toast in the oven until crispy.
Spread the hummus over the crostini, layer with Parma ham and crumble some goat's cheese on top.