Loaded baked sweet potato with Ballymaloe Pepper Relish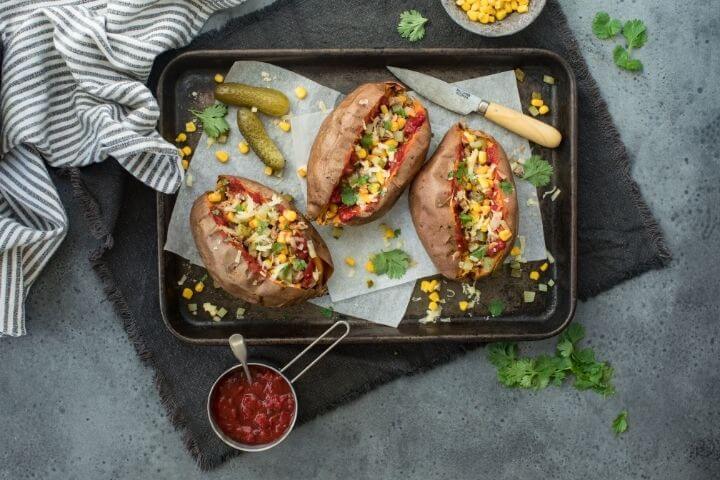 Cooking Time:

1hr 20 mins

Serves:

4

Allergens:

Contains Mustard
Description
This simple fast supper means you get to have free time to relax while the baked sweet potato cooks. This easy dish will become a weekly go-to staple in your repertoire.
Ingredients
4x large, sweet potatoes (clean and free of soil)
2x tins of Shines Irish Tuna in oil
1 tin of sweetcorn, drained
8 large gherkins, half sliced, half diced
150g cheddar cheese grated
4 large tbsp. of Ballymaloe Pepper Relish
Optional- fresh coriander leaves
Method
Place the sweet potatoes on a baking tray and roast in the preheated oven at 220* for an hour or until a skewer is inserted and meets no resistance.
Once fully cooked remove the tray from the oven. Cut a cross into each and push up from each corner to expose the centre of the sweet potato.

Stuff each with tuna, corn, gherkins, and lots of grated cheddar. Pop back into the oven for 10 mins.
Finally, place each stuffed potato onto a warmed plate and finish by placing a generous dollop of Ballymaloe Pepper Relish on top of each loaded sweet potato.