Next Level Steak Sandwich with Ballymaloe Truffle Mayo and Red Onion Relish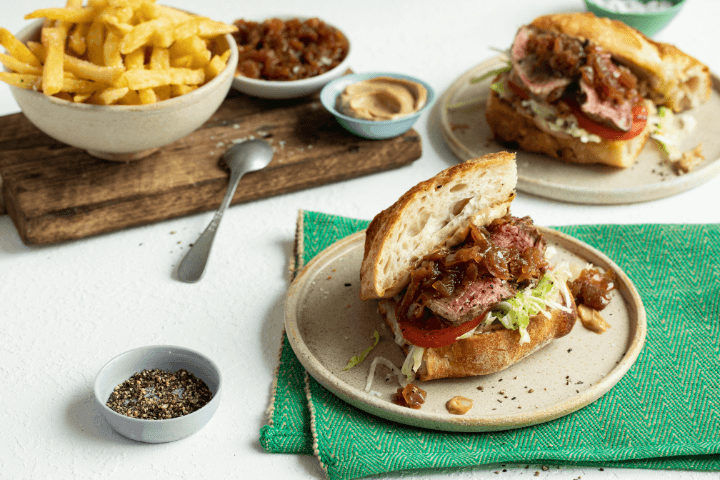 Cooking Time:

30 minutes

Serves:

4

Allergens:

dairy
Description
This mouthwatering sandwich will bring extra joy to your life this Christmas – the Truffle Mayo elevates it to award-winning levels. This also works really well as an open sandwich.
Ingredients
2 tbsp olive oil
700g fillet, rump or sirloin, cut into four steaks
Sea salt and freshly ground black pepper
4 ciabatta rolls, cut open lengthways but left hinged
8 tbsp Ballymaloe Truffle Mayo
½ head of iceberg lettuce, shredded
Ballymaloe Red Onion Relish
2 tomatoes, sliced and sprinkled with salt and pepper
Method
Put a griddle pan on a high heat and leave it for several minutes to get piping hot.
Drizzle 1 tablespoon of the oil over the meat and season generously with salt and pepper. Rub the seasoning into the meat, then put it on the hot pan. Cook for about 3 minutes on each side for medium (cook it longer if you prefer it well done). Remove the steaks from the pan and keep them somewhere warm while they rest. This step is very important, so don't skip it.
Brush the cut ciabatta halves with the remaining tablespoon of oil. Pop the ciabattas in the hot pan, cut side down, and toast them for 1–2 minutes, until well marked.
To assemble, generously spread Ballymaloe Truffle Mayo on both halves of each ciabatta. Cover the bottom half with lettuce. Slice the meat thinly at an angle and arrange it over the lettuce, then sprinkle with a little salt and pepper. Top with a generous spoonful of Ballymaloe Red Onion Relish, then finish with more lettuce and seasoned tomato slices. Cover with the other half of the ciabatta and enjoy every bite.