Panko Crumbed Cauliflower Steak with Fiery Sweet Potato Fries & Ballymaloe Mayo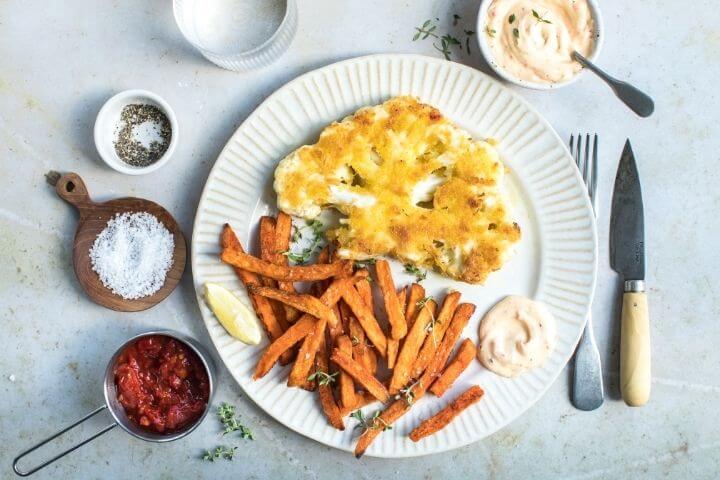 Cooking Time:

50 minutes - Preheat the oven to 230°C/450°F/Gas Mark 8

Serves:

4

Allergens:

Wheat, dairy, mustard, egg
Description
This fiery cauliflower steak turns up the heat, as do the spicy sweet potato fries and Ballymaloe Fiery Relish. Thankfully, a good dollop of Ballymaloe Mayo will save your tastebuds from overheating!
Ingredients
1 large head of cauliflower
2 large, sweet potatoes (peeled & cut into skinny fries)
3 medium free-range eggs (beaten and mixed with 1 tsp Ballymaloe Fiery Relish)
150g panko crumb
50g cornmeal (ground corn)
4oz plain flour
1 tsp paprika
Cayenne pepper
1 tsp onion powder (optional)
1 tsp salt
Grapeseed oil for frying
1 tsp smoked paprika
2 tsp garlic powder
1 tsp cornflour
2 tbsp breadcrumbs
2 oz natural yoghurt
Lime juice
Honey
Sea salt & freshly-cracked black pepper
Ballymaloe Mayo
Ballymaloe Fiery Relish
Method
Preheat the oven to 230°C/450°F/Gas Mark 8.
For the sauce, whisk all of the ingredients together, taste, adjust seasoning and set aside.
For the fries, line a baking tray with parchment paper. Mix all of the dry ingredients together in a bowl first, then add in your skinny fries. Toss to coat and make a single layer on your lined baking tray. Do not overcrowd your tray, or it will cause your fries to wilt and soften. Bake for 25 minutes, turning halfway through.
Trim the leaves from the cauliflower and trim the end of the stem but leave the core intact. Slice the cauliflower from the centre into 4 steaks of about 1 to 1½cm thick.
Mix the panko, cornmeal, paprika, onion powder & salt on one plate. Place the flour on another plate, and the beaten eggs (mixed with a little Ballymaloe Fiery Relish) on a separate plate.
Coat each cauliflower in the flour, then the egg and finally in the panko mixture.
Add 3 floz of grapeseed oil to a pan over medium heat.
Once the pan is hot, add the cauliflower steaks. Cook until they are golden on both sides. This will take about 3 minutes per side. Place the steaks on a lined baking tray and finish in a preheated oven (turned down to 180°C/350°F/Gas Mark 4). Place on a kitchen-paper lined tray before serving to drain off any excess oil.
Serve the steaks on a hot plate with a side of crunchy sweet potato fries and a generous portion of Ballymaloe Mayo or, if you really want to feel the heat, some more of our Fiery Relish!