Pulled Pork Burgers with Ballymaloe Pepper Relish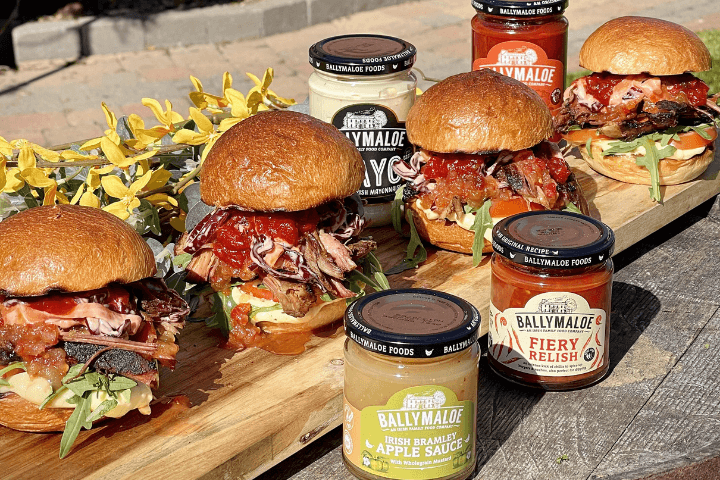 Cooking Time:

30 minutes (plus 5 hours roasting time) - Preheat the oven to 150°C/300°F/Gas Mark 2

Serves:

6

Allergens:

Eggs, mustard
Description
You will find yourself making this pulled pork burger again and again. Ballymaloe Apple Sauce, Mayo, Pepper Relish and Fiery Relish are all vital ingredients for this delicious recipe, as each product brings its own essential flavour to the mix. While the pork slow-roasts make the most of some free time! We suggest finding somewhere quiet to enjoy this dish,  as you'll want to be left alone with this ridiculously tasty treat – and don't forget an extra napkin… or two!
Ingredients
6 brioche burger buns
1.25kg pork shoulder
Ballymaloe Pepper Relish
2-3 beef tomatoes (sliced)
6oz red cabbage (shredded)
6oz green cabbage (shredded)
6oz carrots (shredded)
Rocket leaves
1 tbsp fennel seeds
1 tsp chilli flakes
1 tsp sea salt
1 tsp wholegrain mustard
Ballymaloe Fiery Relish
Ballymaloe Apple Sauce
Ballymaloe Mayo
Method
Preheat the oven to 150°C/300°F/Gas Mark 2.
Place the scored shoulder of pork on to a baking tray.
Mix the fennel, chilli and sea salt together in a small bowl, then rub this mix into your pork shoulder.
Place the seasoned shoulder into the oven for 5 hours or until the meat appears to be falling from the bone and pulls easily when checked.
Remove the pork from the oven and place the pork shoulder on a new baking tray. The original roasting tray is full of flavour so pour any excess juice or oil into a Pyrex jug. Using a spoon, skim off the top layer of fat and keep for roasting or for making pork lard pastry. Place the tray of caramelised juices on your hob and add in a half pint of cold water, return the reserved juices from the jug back into the pan and whisk to combine. The aim is to lift any caramelised juices off the tray and incorporate it back into the jus. Remove from the heat and sieve into a large bowl. Taste and correct seasoning with some sea salt if necessary, then set aside.
Turn the oven up to 220°C/425°F/Gas Mark 7 and pop your pork shoulder back in, to cook the crackling until it blisters, then remove from the oven.
Once the meat has cooled enough to handle, using the end of a spoon, slowly lift off the crackling whole or in pieces and place it on a plate.
Using two forks, start to pull at the meat until the bone is exposed and free of any meat. Remove any bones and discard. Spoon over some of the jus and toss to combine.
Add 1-3 tsp of Ballymaloe Fiery Relish and toss again - tasting & adjusting seasoning if necessary.
To assemble your burgers, slather the bases in Ballymaloe Mayo, then top with your sliced tomatoes, rocket and shredded carrot, before adding a heap of seasoned, pulled pork.
Add 2 teaspoons of Ballymaloe Fiery Relish to your jar of Ballymaloe Apple Sauce and add a dollop to the top of your pulled pork. Then add the shredded red & green cabbage, before adding a generous spread of Ballymaloe Pepper Relish to the lid.
Serve with your sides of choice, including a generous bowlful of Ballymaloe Mayo for dipping!