Purgatory Peppered Eggs with Nduja and Sourdough using Ballymaloe Hidden Veggies Pasta Sauce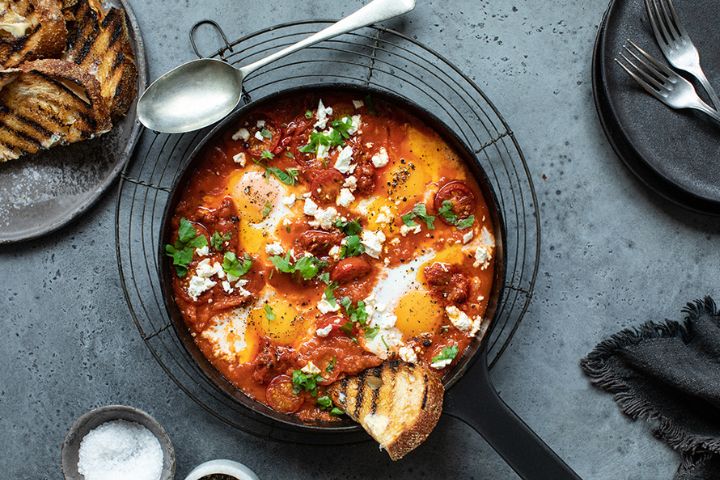 Cooking Time:

30 minutes

Serves:

4

Allergens:

cereals containing gluten, eggs, milk
Description
This simple little recipe is so forgiving and that is why this recipe is our go-to for family-style brunching. What we love about it is if you over-cook the eggs it really doesn't matter as it is utterly delicious regardless! Who knew Ballymaloe Hidden Veggies Pasta Sauce can be used in meals that don't include pasta?
Ingredients
4 free range eggs
1 jar of Ballymaloe Hidden Veggies Pasta Sauce
4 tsp Nduja
8 cherry tomatoes (halved)
Sea salt and freshly ground black pepper
50g feta
Flat leaf parsley- pick a fist of leaves
4/8 slices of sourdough toast, buttered (optional)
Method
Pour the contents of your Ballymaloe Hidden Veggies Pasta Sauce into the skillet. Add 4fl oz of water to the jar. Pop on the lid and shake to dislodge any leftover sauce. Add this into the skillet and stir to combine.
Pop it onto a medium heat and bring to a simmer.
Once bubbling, make 4 wells in the sauce using the back of a spoon. Crack an egg into each well. Don't worry if the egg white spreads, it will add to the effect!
Dot the cherry tomato halves around the eggs, cut side up.
Sprinkle over sea salt and lots of freshly cracked black pepper, especially on top of the eggs.
Pop it carefully under the preheated grill and cook for 4/5 minutes or until the egg whites have set and the yolks remain runny.
Using an oven glove, remove the skillet from the oven and place on the hob.
Place a tsp of Nduja on top of each egg and allow it to melt and pool.
Sprinkle over the feta and parsley leaves.
Serve immediately, family style with hot buttered sourdough toasts.