Quick & Easy Mac & Cheesy with Ballymaloe Smooth Relish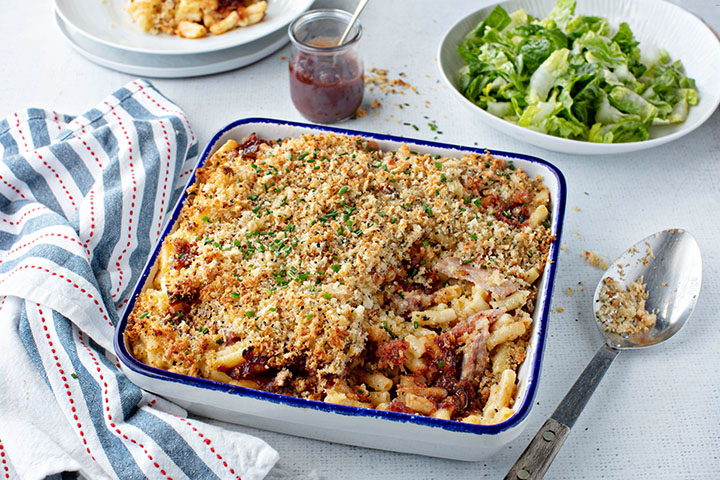 Cooking Time:

35 minutes - Preheat the oven to 200°C/400°F/Gas Mark 6

Serves:

4

Allergens:

Wheat, dairy, mustard
Description
This Quick and Easy Mac & Cheesy with Ballymaloe Relish is ideal for busy families. Simply make the cheese mixture in advance, store it in the fridge and have it ready to go at dinner time. Add bacon lardons to your sauce at step 2 to add extra flavour and texture to the dish. Simply fry up 4 slices of bacon and slice into thin strips before adding to your amazing Mac & Cheese!
Ingredients
300g penne pasta (cooked)
For the sauce:
250g Cheddar cheese (grated)
2 tbsp Ballymaloe Smooth Relish
100ml cream
1 tbsp Dijon mustard
1 small red onion (finely diced)
Salt & pepper
Basil to garnish
4 bacon slices (optional)
Method
Preheat the oven to 200°C/400°F/Gas Mark 6.
Bring the water to boil in a saucepan and cook the pasta with the lid on for 6 minutes, then turn off the heat and allow the pasta to sit for 4 minutes.
Mix all the ingredients together for the sauce and season with salt & pepper.
Place the cooked pasta in an oven-proof dish, then cover evenly with your sauce.
Pop in the oven for 10 minutes, then gently stir the dish just enough to let the cheese mixture sink down through the pasta. Cook for a further 10-15 minutes or until the cheese begins to turn a lovely, toasted golden colour on top.
Sprinkle with chopped basil (optional) and serve.